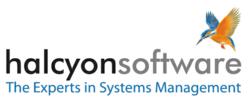 This new release of Authority Swapper simplifies the audit process for compliance teams.
PHILADELPHIA, PA (PRWEB) December 06, 2012
Halcyon Software, the global leader in systems management software, today announced the availability of Authority Swapper 10.0, the latest version of the access control tool for the IBM i. The solution allows IT managers to grant higher levels of authority to users for temporary periods. In addition, it adds unique functionality by providing a visible forensic trace of user activity, which assists organizations to meet security compliance rules and regulations.
The major enhancement, Audit Replay, is a unique screen recording capability that visually captures all user activities during their temporary access to greater security privileges. Typically, users need higher levels of access for defined periods in order to complete specific tasks as part of their job role. By replaying the visual record of the screens visited and the user's activity, compliance teams have a visible trace and can quickly see what has happened without having to have a technical understanding of the IBM i system. This new feature significantly reduces the time to audit user activities.
Additionally, Authority Swapper 10.0 logs, records and stores every activity carried out by users during such sessions, which can be automatically exported to a secure, encrypted file for internal and external auditing purposes.
"This new release of Authority Swapper simplifies the audit process for compliance teams. In the past they would have needed to review all the IBM i commands a person had used as well as have an understanding of the command language to realize the implications," said John Dominic, Vice President of Sales, Halcyon Software. "We are the first vendor to introduce this new feature which effectively provides a visual surveillance recording making the forensics much clearer to auditors without IBM i skills. This technology will help a wide range of organizations, including banks, insurance companies and the gaming industry, to meet their security compliance obligations."
Authority Swapper 10.0 is available as a standalone product for all organizations using the IBM i. Existing Halcyon customers of Authority Swapper can upgrade free of charge. The solution can also be cost-effectively integrated into Halcyon Software's market-leading monitoring suites for IBM i systems to give real-time intrusion detection.
For more information about Authority Swapper 10.0 visit: http://www.halcyonsoftware.com
About Halcyon Software
Halcyon Software is a global leader in multi-platform systems management software. With more than 20 years of delivering proven solutions and first class customer support, Halcyon's products proactively monitor, manage and automate IT operations to significantly reduce costs. Large IT outsourcing companies as well as small to medium sized corporate and public sector data centers rely on Halcyon Software to ensure their mission-critical systems, core applications and services are available 24/7.
Halcyon's solutions support IBM® enterprise class systems, including the IBM i®, AIX® as well as Windows® and Linux® platforms.
Halcyon has regional offices in the USA, UK and Australia, and a worldwide network of partners and distributors supporting the Americas, EMEA, and Asia Pac territories.
###