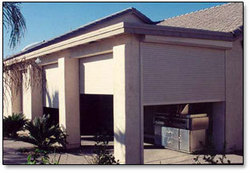 Many law enforcement representatives say these shutters are the maximum deterrent against unwanted guests. A typical burglar that sees a home or business protected by rolling shutters knows they're in for a job that's going to require a lot of time and hard work, causing them to look around for an easier target
Tempe, AZ (PRWEB) April 10, 2009
Roll-A-Shield, the leading family-owned rolling shutter manufacturer in Arizona, is offering an unmatched savings opportunity on security shutters for Phoenix Metro home and business owners.
When it comes to protecting a home or business, everyone wants security that they can trust in any situation. Because of their unique design, Roll-A-Shield rolling shutters provides a great security system for home or business. When the rolling shutters are completely closed, the shutter locks automatically, making the shutter almost impenetrable.
"Many law enforcement representatives say these shutters are the maximum deterrent against unwanted guests. A typical burglar that sees a home or business protected by rolling shutters knows they're in for a job that's going to require a lot of time and hard work, causing them to look around for an easier target," said Corrie Wengren, Co-Owner of Roll-A-Shield.
Rolling shutters can be used to cover windows of any size or shape, doors, doggie doors, patios - basically any opening in the home. They are also used in many business applications, such as storefront, windows, doors, pass-through windows, closets, storage rooms and lockers.
Phoenix Metro area home and business owners can protect their assets and save money by placing orders now. Here are the details of the savings offer:

Purchase a new, electrically operated Roll-A-Shield rolling shutter and save $100.00 (each)
Purchase a new, manually operated Roll-A-Shield rolling shutter and save $60.00 (each)
Offer applies to all orders made by May 15, 2009. Local installations in the Phoenix Metro area only.
For more information about Roll-A-Shield security shutters, visit Roll-A-Shield Security Shutters.
About Roll-A-Shield
Roll-A-Shield has been providing window security for 30 years, manufacturing each Roll-A-Shield in our original Phoenix location and now in our bigger Tempe plant. Since 1979, we have invested in research, product development and manufacturing equipment. Our shutters are among the highest quality and longest lasting rolling shutters on the market today.
Visit our newly designed website for more information: Roll-A-Shield.
# # #