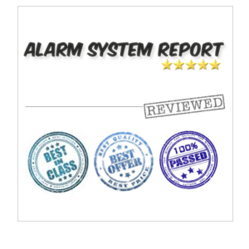 Nevada home owners can now read about the top home alarm system companies and find out the changes the industry has made to help better protect their families.
Las Vegas, NV (PRWEB) November 10, 2012
The top home alarm system companies of Nevada have been thoroughly evaluated by AlarmSystemReport.com and the results have been posted in their state review sections.
AlarmSystemReport.com's Nevada alarm system reviews were done using AlarmSystemReport.com's unbiased approach to alarm system company reviews. This approach ensures that all companies receive a fair review that consumers can trust.
AlarmSystemReport.com's Evaluation Process
AlarmSystemReport.com uses a unique process for reviewing alarm system companies. The ranking team does not simply review just any alarm system company. They create a list of companies selling the top rated alarm systems and do a preliminary check on them to make sure they meet certain minimum requirements.
Once all of the top home security system companies in Nevada are identified, AlarmSystemReport.com hires local home security experts to do independent reviews on each company. Each home security expert is screened to make sure they don't have any natural biases towards or against a particular alarm system company. Experts with particular biases are cut from the review team and experts without any biases are sent on a mission to secretly review all of the top alarm system companies in the area.
After the experts complete their security system reviews, they hand their findings off to AlarmSystemReport.com's ranking team. This team compiles all of the data provided to them by the reviewers and puts it all into an easy-to-read review page. Each company is then given a ranking and the rankings are listed in order with the highest quality alarm system company listed at the top and the worst listed at the bottom.
In addition to this, the ranking team will also evaluate each company's performance in key technology areas. For example, one company might excel in providing wireless alarm systems and another might excel in providing traditional hard-wired alarm systems. Once the evaluation is complete, the ranking team ranks each company in order from best to worst in each category and posts them up in a separate review section.
The Results
The ranking team at AlarmSystemReport.com identified about a dozen companies for the expert reviewers to review. These companies all had areas they excelled in, but FrontPoint Security ended up doing the best.
FrontPoint Security excelled in many areas and earned themselves the top spot in Nevada's alarm system company rankings. Nevada homeowners can read more about this by visiting AlarmSystemReport.com and clicking on the FrontPoint Security review section of the site.
To read up on all of the Nevada alarm system companies AlarmSystemReport.com ranked, please visit their website.