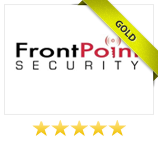 Our home security experts love FrontPoint Security for their DIY solution, great customer service, and industry leading approach to simplifying home security.
Memphis, TN and Reston, VA (PRWEB) December 13, 2012
As part of their far reaching review of the United States home security systems industry, the experts at SecuritySystemReviews.com have announced today that they have completed their in depth evaluation and review of FrontPoint Security. Based on findings from independent researchers, as well as a review of customer satisfaction surveys, Better Business Bureau records, and other available disclosures and public records, SecuritySystemReview.com awarded FrontPoint Security a perfect 5 star out of 5 rating. FrontPoint Security is the only company to date to receive a perfect rating.
"FrontPoint Security certainly isn't the oldest or most recognized company in the home security industry, but it's definitely right up there among the best of the best," said Tim Eveler, public relations head at SecuritySystemReview.com. "I can't go so far as to say that FrontPoint Security is the absolute best along all over our review metrics, but they're definitely right up there in reliability, affordability, and customer satisfaction, as well as in the quality of their equipment, the diversity of their monitoring service offerings, and their level of technological innovation. They're definitely a company I'd trust my home to."
One the metrics on which FrontPoint Security scored the highest was on customer satisfaction. The company has an A rating with the US Better Business Bureau and consistently ranks at or near the top on independently conducted surveys of home security system customer satisfaction. FrontPoint Security also offers competitive pricing, especially when customers sign up for multi-year monitoring agreements.
Other security system reviews that SecuritySystemReport.com has conducted as a part of its broader annual review include ones for Protect America, Vivint Home Security, LifeShield Home Security, and ADT. Following FrontPoint Security in the best overall home security system category are Protect America with a 4.5 out of 5 star score and ADT with a 4 out of 5 star score.
In addition to the best overall ranking, FrontPoint Security ranked highest in the best wireless security system provider category, the best cellular based monitoring category, and the best do it yourself security system category. The only major category in which FrontPoint Security did not achieve the highest rating was the best home security with home automation features. Vivint Security was ranked number one in that category.
Consumers interested in obtaining more information about either FrontPoint Security or any home security system companies in general should visit SecuritySystemReviews.com. The site is free for use, without requiring any registration, and offers an extensive collection of nonbiased, fact-based information that has been verified by independent industry reviewers.
About SecuritySystemReviews.com
SecuritySystemReviews.com brings together many of the top experts and writers in the home security and alarm system industry to provide the most accurate, exhaustively researched, and up to date information on all of the top security systems and home security monitoring services. In addition to its freely available annual rankings and expert recommendations, SecuritySystemReviews.com provides homeowners and other security system consumers with a wide variety of useful, in depth information, including FrontPoint Security, ADT Security, LifeShield Home Security, Protect America, and Vivint reviews. SecuritySystemReviews.com certifies that all of its industry experts are independent professionals who do not maintain financial relationships with any of the companies they research and review.
###