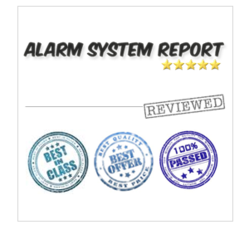 New technologies and companies are leading the home security industry and we wanted to share our list with the home owners in Massachusetts.
Boston, MA (PRWEB) November 12, 2012
AlarmSystemReport.com is one of the best alarm system review companies on the Internet. They've earned this status by making use of a unique rating and ranking system that judges all of the top companies in all of the critical areas of home security.
The ranking team at AlarmSystemReport.com has published ratings and rankings on all of the top alarm system companies nationwide and has recently started applying this rating and ranking system to individual states. Massachusetts alarm system companies have just been rated and ranked and Massachusetts homeowners can now find AlarmSystemReport.com's findings in the Massachusetts company ranking section of their website.
How Is AlarmSystemReport.com's Ranking System Unique
Alarm System Report takes a well-rounded approach to rating and ranking the top alarm system companies. They start by coming up with certain requirements that all home alarm system companies must meet before being ranked. Creating a list of minimum requirements weeds out all of the companies that aren't worth rating and dramatically reduces the amount of home alarm system companies homeowners have to read through before finding the good ones. If a home security system company doesn't meet the minimum requirements, they won't show up on AlarmSystemReport.com at all.
Once a company has been found to meet all of the key minimum requirements, AlarmSystemReport.com analyzes them using two different methods. These methods include using home security experts to secretly audit each company and using social sites to determine what everyday users think of each company.
After the experts have done their secret reviews and made their recommendations, AlarmSystemReport.com's ranking team compares their reviews with those on the major social websites. These social websites include but are not limited to sites like Yelp, Angie's List, and Facebook. AlarmSystemReport.com's ranking team combines the expert reviews and the social reviews and creates ratings and rankings for each company.
Massachusetts ended up having many great companies to rate and rank. Companies like LifeShield, Vivint, BroadView, ADT, and FrontPoint have all done a wonderful job of securing homes in Massachusetts. FrontPoint Security ended up taking the number one spot with ADT following closely behind. To read more about these companies, homeowners can check out the Massachusetts FrontPoint Security review and the Massachusetts ADT Security review found within AlarmSystemReport.com's website.
Homeowners searching for more specialized equipment can search for the best wireless alarm system, DIY alarm system, or cellular alarm system in Massachusetts by looking through the equipment specific areas of AlarmSystemReport.com. To see these security system reviews for yourself, please visit AlarmSystemReport.com.