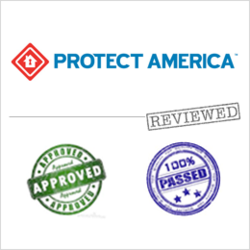 Getting an instant quote from Protect America has never been easier for consumers. We are dedicated to helping make the process of buying a home security system easier in 2013.
Boston, MA (PRWEB) January 14, 2013
SecuritySystemReviews.com, said in a statement today that they have added new functionality to their nationally recognized home security system review and consumer information website. The changes will help consumers gain access to even more data about all of the best home security systems in the nation, especially for those security system companies featured in its review library, including FrontPoint Security Systems, ADT, Protect America, LifeShield Home Security, and Vivint Security.
The company is currently highlighting its new "Instant Quote" feature. The instant quote feature allows potential security system buyers to answer a few questions about their home security situation and needs and then receive an accurate and up-to-date quote that the customer can save or even choose to act on right then through an API that links to the web pages of the security system companies.
Protect America is the most recent home security company to have the instant quote feature added to its security system review and company profile. Tim Eveler, public relations head at SecuritySystemReviews.com, said that the instant quote tool contains all of the most accurate pricing information, direct from Protect America's company databases, and even includes all of the company's current promotions and coupons—meaning customers are always sure to have access to the best pricing information on the market. (Readers can find the complete Protect America review at SecuritySystemReviews.com.)
Eveler also indicated comparable instant "request-a-quote" features either have already been added to many security companies' reviews and profiles or will be included for all participating home security system companies in the near future. Soon, one of the requirements for inclusion in SecuritySystemReviews.com's company rankings and security system reviews will be automated instant access to service and equipment pricing information.
"Our readers have really expressed quite unequivocally that transparent pricing is at the top of their list for things they want in a home security company," said Eveler. "Low cost is always good, but many of our customers aren't necessarily looking for the cheapest price. They understand value, and they want to be able to compare what various features and monitoring plans cost so that they can look at a company's total offering and track record and start to make value determinations. Thankfully, all of our most highly rated security system and monitoring service providers have been responsive to our readers—their customers—and we've been able to swiftly implement the instant quote features that many consumers find so important and valuable."
Potential home security system buyers as well as other interested consumers and readers can find out more information about Protect America, other leading home security companies, and a large variety of home security tips and other industry professional advice by visiting SecuritySystemReviews.com. None of the company's staff writers or independent consultants or experts maintain financial relationships with any of the companies that it reviews.
About SecuritySystemReviews.com
SecuritySystemReviews.com, a leading consumer advocacy and review publisher in the home security system industry, maintains a popular, high traffic web site which specializes in providing detailed, independently conducted consumer reviews of all of the nation's leading home security and home automation system providers.
###