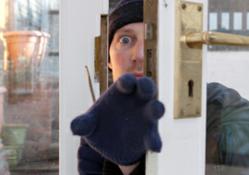 Patio doors are an easy entry point for an intruder, but failing to follow some simple steps can draw attention from suspects.
Miami, FL (PRWEB) April 24, 2013
Anyone who has purchased outdoor furniture, such as a patio set, a new grill or other outdoor cooking equipment, knows that it can be a big investment. When spending a great deal of money on these outdoor items, it becomes important to protect them from the threat of theft or vandalism, but for many homeowners, the outside of a home is often ignored with regard to home security.
The security experts at SecuritySystemReviews.com, a site offering comparisons of the best security systems, including security system prices, offer the following tips for homeowners and renters looking to add extra security to outdoor areas.
1. Take pictures of all outdoor belongings of any value. This includes patio furniture, grills, smokers, decorative items, toys, or anything else that could be stolen. Having photos will increase the likelihood of items being recovered or covered by insurance.
2. There are a number of DIY home security systems and home security equipment options that will work for outdoor areas, including surveillance cameras and alarms that can be attached to individual pieces of furniture that will sound if the item is moved. Just the appearance of a security camera is more likely to deter a theft or vandalism from occurring. If a homeowner wants to spend more money on outdoor security, there are also more expensive options, including wireless security equipment companies that can include outdoor areas in a home's overall security system.
3. Chaining outdoor furniture and adding a lock is a good way to deter a would-be theft. It's best to secure each piece of furniture separately, rather than chaining all of the pieces together with one loop or chain.
4. Installing motion-activated lighting on the exterior of a house is one of the best ways to deter theft and vandalism. Criminals don't like well-lit areas, so adding motion-sensor lights or flood lights is a great way to avoid criminal activity from occurring on a patio or deck area.
5. It probably isn't practical to do so every night, but if going away for an extended vacation, it may be a good idea to move expensive items indoors. This will not only protect against theft, but will also protect items from the elements.
About the Company
SecuritySystemReviews.com is a site offering consumers unbiased reviews and information about top security systems and companies. The site offers comparisons of prices, reliability and other valuable information to help consumers make the best security decision.