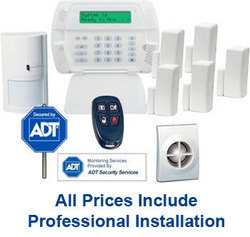 The plans and packages offered when you consider the caliber of service and product line, are more than modestly priced
Miami, FL (PRWEB) August 7, 2009
Americas most trusted name in home and business security, ADT Security Services, has acquired a local burglar alarm company based in Miami, Florida to form Security Concepts as an authorized ADT dealer. Backed by over 24 years in security consulting services and training in custom installation services statewide it made perfect sense to take this leap along with ADT. Security Concepts has combined their expertise of security services along with alarm systems from one of our nations most reliable alarm system providers. Security Concepts was introduced as an official part of the ADT Dealer Group in South Florida on November 7th 2008. Security Concepts and ADT share the same vision, and that is to be the leading security systems in miami, services, and solution provider in the area. Security Concepts plans to achieve this by exceeding the customers' expectations through superior service delivery, world class talent, and applied technological innovation.
The Website Launch
The launching of Security Concepts website is estimated to take place on May 2rd 2009. The website in it's entirety has a distinct, and crisp look with a refreshing, user friendly feel. The site was created in such a way that consumers may fulfill their security system needs with ease. "Consumers can start the process to protecting their homes and businesses in as little as three easy steps:
1) Pick Your Customized Package
2) Pick Your Plan
3) Schedule Your Installation
It's that simple" says the CEO of Security Concepts. The menu section allows for effortless browsing through the helpful information Security Concepts has to offer about their services. They have taken great care in making sure that their consumers' decision process to select which package and plan are well-suited for them is as comfortable and smooth as possible. If by chance a customer feels that they have an inquiry that can not be answered by perusing the website alone, they are one click away from getting the answers they are searching for. By hitting the "Click To Call" button a customer can immediately be directed to an Authorized Representative, or if they choose to they can fill out a brief form and an Authorized Representative will contact them as soon as possible. Security Concepts' team of Authorized Representatives will be more than happy to answer any and all questions that a consumer might have about the wide array of services that they offer to homes and businesses.
Plans and Security Packages
All of Security Concepts plans and security systems prices in Miami include professional installation, 24-hour monitoring for fire, medical, police, and burglary. Plus, all of the packages and products are protected by ADT's Lifetime Guarantee. As long as you remain an ADT customer, you'll never pay for parts or labor for in-warranty items. "We're very proud to announce our 24/7 Burglary Monitoring, Plus CellGuard," says the CEO of Security Concepts, "for just $44.99/month. CellGuard is a digital cellular backup technology that enables your home security system to communicate with ADT Monitoring Centers. This service provides the added protection of allowing your home security system to call you and the ADT Monitoring Center - even if your home phone line is down. (That means no more worrying about storms or a burglar cutting your line.) It also allows homes without a traditional land line phone to use the ADT Monitored Security System. This kind of world class technology has helped protect over 6 million American homes and has received full SAFETY Act coverage from the Department of Homeland Security for its Electronic Security Services. This amazing plan is just tip of the iceberg when it comes to the great services that are offered by Security Concepts."
Another ideal product is the "ADT Level 2 Security Pack". Security Concept offers a variety of "Security Packs" that range anywhere in price, from $99 to $599. This specific product is offered at the price of $199 and valued at $1,100.
ADT Level 2 Security Pack

Premier keypad (multi-language) with police, fire, medical and panic buttons
Up to 10 door/window sensors
1 key-fob chain remote
1 pet-sensitive motion detector
1 battery backup
1 interior high-decibel siren
1 phone line inter-phase
ADT yard sign and window sticker
"The plans and packages offered when you consider the caliber of service and product line, are more than modestly priced," says the CEO. He adds, "Security Concepts can give you the 5 star safety for your home and business that you need while still keeping you well within your budget." The end result of choosing a company like Security Concepts is consumer satisfaction. Security Concepts customers get the best service at competitive prices with installation included in every plan.
The Security Concepts Promise
The main concern of the Security Concepts team is, and always will be, paramount protection for your home and business. Their customer satisfaction is of the utmost importance and so they strive to keep their customers happy. Security Concepts knows that the path to success is built through their actions. It's this knowledge that leads them to their superior attitudes about putting out excellent service. That is why the Security Concepts Promise was created. The moment a home or business owner is committed to protecting their most valuable assets; Security Concepts will be ready and able to assist. Security Concepts can provide an inspection to evaluate the weak spots in your home or business. They will provide as much information as necessary to help the owner in deciding the simplicity or complexity of equipment needed to meet their needs. Whether you currently have alarm services, have an alarm system that is not activated, or are a new home/business owner without a system, Security Concepts is an excellent choice no matter the situation.(click above to see the Security Concepts Promise certificate)
The Security Concept Promise:
Promise to show up on time.
Promise to provide you with the highest level of professionalism.
Promise to instruct on all the features the Alarm System offers.
Promise to clean up after every installation.
Ultimately, They Promise your 100% complete satisfaction.
# # #