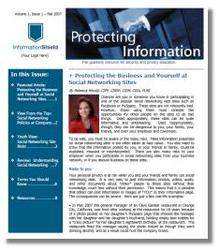 Protecting Information incorporates my experience in education, information security and privacy to create a truly unique educational product. Protecting Information is developed using proven education methods and designed to speak to all workers.
Houston, Texas (PRWEB) October 9, 2007
Information Shield today announced the release of Protecting Information, a next-generation interactive employee newsletter devoted to security and privacy awareness. Protecting Information is edited by security expert Rebecca Herold and provides timely security and privacy awareness material to an entire organization for less than the cost of a typical laptop.
"High-profile data breaches and increased regulatory pressure are making employee security awareness a top priority at many organizations," says David Lineman, president and CEO of Information Shield. "Research shows that people are consistently the weakest element of any security program. Protecting Information takes security awareness to the next level, providing an extremely cost-effective solution for organizations that must keep their employees educated on the latest threats to sensitive information."
Protecting Information is a quarterly security and privacy awareness newsletter that you can easily customize and distribute to your entire organization. But Protecting Information goes well beyond traditional newsletters, providing audio files and interactive exercises to engage your personnel and help them truly understand security and privacy concepts.
"Protecting Information is designed so that all employees of an organization can understand privacy and security issues," explains editor and consultant Rebecca Herold, CIPP, CISSP, CISM, CISA, FLMI. "Protecting Information incorporates my experience in education, information security and privacy to create a truly unique educational product. Protecting Information is developed using proven education methods and designed to speak to all workers."
Protecting Information is published four times a year and each issue includes:

Featured Article -- A featured article from Rebecca Herold that addresses both security and privacy topics that not only impact your organization, but also impact your employees outside the workplace.
Youth View -- A special article written by a real teenager discussing security and privacy issues from their point of view, demonstrating to employees how the featured topic applies outside the workplace.
Terms You Should Know -- A set of information security and privacy terms related to the featured topic.
Real-world Cases -- Examples of data security or privacy breaches in real companies and what your organization can learn from them.
Educational Review -- Related educational activities that will engage the reader, reinforce the featured topic, and provide valuable metrics for use in information security and privacy program evaluation.
Company View -- A placeholder article with a customized message from company executives discussing the featured topic, encouraging employees to engage company personnel in the security and privacy dialog.
Podcast -- An MP3 audio file of the featured article that addresses audio learning styles and enables your employees to listen whenever they can on their iPod or other MP3 player.
As an additional bonus, each issue includes a companion subscription to Awareness Advisor, a special newsletter containing practical, time-saving advice for security and privacy practitioners written by Rebecca Herold. Security, privacy and education expert Rebecca Herold is the author of eleven books including Managing an Information Security and Privacy Awareness and Training Program.
Each issue of Protecting Information features a topic addressing both information security and data privacy that not only impacts the business, but also impacts employees outside the workplace. Topics such as social-networking, social engineering, mobile computing, e-mail and safe data handling are covered using real-world examples from today's headlines. Protecting Information engages the reader using a variety of learning styles and interactive exercises, including featured articles in MP3 format. Each issue is published in MS-Word and PDF formats and can be customized easily with the organization's logo and content.
Protecting Information is a cost-effective way to demonstrate compliance with the many data security and privacy regulations that specifically require security education and awareness.

Effectively educate employees on information security and privacy principles using real-world examples relevant to all personnel and their families.
Ensure that your message reaches the most people by using a variety of learning styles and formats
Enhance existing education and awareness programs by easily integrating your own branding and messages.
Establish metrics to verify the effectiveness of your awareness efforts
Receive relevant and timely best-practices from a leading data security and privacy expert.
Provide a cost-effective method for ensuring compliance with state, federal and international privacy, data protection and security laws, regulations and standards
In support of National Cyber Security Awareness Month, Information Shield is offering special introductory pricing during October 2007. Organizations can receive a free evaluation version of Protecting Information by visiting the Information Shield web site.
About Information Shield:
Information Shield is a global provider of information security and data privacy leading practices. Headquartered in Houston, Texas, Information Shield's library of information security, data privacy and security awareness publications allow organizations to effectively build policy-based security programs that focus on compliance with international regulations. For more information, please visit http://www.informationshield.com or call 1.888.641.0500.
###