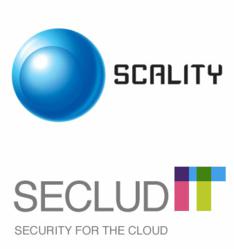 Scality RING is Rock Solid and Tamper Proof
San Francisco, CA (PRWEB) July 16, 2012
Scality, a leading developer of storage infrastructure software, today announced that RING, its high performance object storage solution - has received SecludIT's security certification for its Storage as a Service infrastructure package - including the RS2 (REST Storage Service) connector.
SecludIT, a security software and consulting firm, recently studied Scality RING production configurations to analyze and inspect the security properties of the RING platform.
SecludIT analyzed and stress tested several Scality RING StaaS production environments for 3 months. They ran a variety of intrusive tests designed to detect security issues. Among tools and methods used for this study, SecludIT used vulnerability assessment tools such as the Elastic Detector and evaluated the SNIA Best Current Practices.
"We are intimately familiar with many cloud platforms. We were impressed by the quality of the Scality platform at the security level. The solution is rock solid and tamper proof in terms of data isolation, intrusion resilience and information leakage. We didn't find any vulnerabilities and we can guarantee the comprehensive security of the Scality RING." said Sergio Loureiro, CEO and co-founder of SecludIT.
"SecludIT's certification is very meaningful to us and to the industry in general. Its security partnerships with Amazon Web Services, VMware and HP Cloud illustrate its widely recognized leadership position in the cloud ecosystem and the value of its data." said Philippe Nicolas, Director of Product Strategy.
Jérôme Lecat, CEO of Scality, added: "Security is a major inhibitor to cloud adoption. The cost and operational efficiencies of large scale shared infrastructure are inescapable, whether for public or private clouds, but concerns about security have limited the growth of cloud in enterprise, and they have to be addressed. Scality has always been committed to delivering an infrastructure to the highest standards of security. Having our design and implementation audited allows us to prove it! This new 3rd party report provides valuable data points to those seeking the safest choice for large scale cloud platforms."
For further details, we invite you to read the White Paper written by SecludIT focusing on the Scality RING StaaS security analysis. You can download the document from http://www.scality.com/research_reports/
About Scality
Scality is the developer of RING, a software platform enabling cloud storage to easily scale up to exabytes using commodity server hardware with direct attached storage. Scality delivers the performance and reliability of a SAN or NAS based architecture without the hassles of volume management at one third to half of the cost.
Scality is used by Service Providers to deploy Storage-as-a-Service offerings, by Email Providers to store emails for millions of users, and by web services managing billions of files with very high performance expectations, either for Web 2.0 or business applications. Scality RING is based on a patented object storage technology, which delivers high availability, ease of operations and total control of your data. For more information, visit: http://www.scality.com or follow @Scality on Twitter.
About SecludIT
SecludIT is a security startup founded by security experts, fully focused on cloud infrastructures. With its partner Institut Eurecom, SecludIT has performed security audits on public cloud infrastructures such as AWS EC2 and found vulnerabilities highlighted by Forbes (http://www.forbes.com/sites/andygreenberg/2011/11/08/researchers-find-amazon-cloud-serversteeming-with-backdoors-and-other-peoples-data/) and published the results on an international conference by the ACM. Sergio Loureiro is one of the authors of the Security Guidance for Critical Areas of Focus on Cloud Computing V2.1 (https://cloudsecurityalliance.org/research/security-guidance/) from the Cloud Security Alliance (CSA) and a founding member of the CSA. Sergio holds a PhD on computer Science from the ENST Paris.