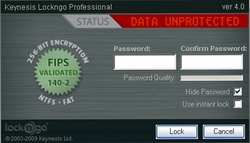 Users today are extremely mobile and so is their data. It is very disturbing to hear time and time again about personal or company data falling into the wrong hands because a Flash Drive or External Hard Drive was lost or stolen. Our mission at Keynesis is to provide a friendly, easy to use solution that will not annoy the user and will make the task of securing portable data a snap
(PRWEB) March 30, 2009
Keynesis Ltd. is announcing the release of its new Portable Security Software, Lockngo Professional 4.0. The new software is a stand-alone portable program that resides on external drives and does not require any type of installation.
Lockngo allows to quickly encrypt, password protect and hide the content of drives, leaving data secured when traveling. The software protects large capacity drives in seconds.
Keynesis is an established, well experienced security software provider in the USB drive market with clients ranging from private to governmental agencies and fortune 500 companies and is now broadening its offering to the fast growing market of large capacity external hard drives.
"Users today are extremely mobile and so is their data. It is very disturbing to hear time and time again about personal or company data falling into the wrong hands because a Flash Drive or External Hard Drive was lost or stolen. Our mission at Keynesis is to provide a friendly, easy to use solution that will not annoy the user and will make the task of securing portable data a snap" says Micha Kaufman, Keynesis' Founder and CEO.
Lockngo Professional has a built in 256-bit AES FIPS 140-2 certified encryption and supports NTFS, Fat32 and FAT. In addition, it offers a wide range of features such as single click protection and advanced configuration capabilities for system administrators and IT managers.
For more information, please visit our website
If you are a portable drive manufacturer, OEM or dealer and would like to learn more about our
Partners Program and business opportunities, please contact us at: oem.sales(at)keynesis.com
Affiliates may register to our Affiliation Program
###