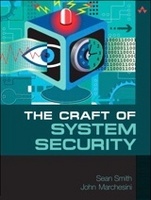 INDIANAPOLIS (PRWEB) December 10, 2007
News Facts
-- The Craft of System Security teaches best practices for authenticating people and computer systems in diverse settings.
-- Users will understand the classic "Orange Book" approach to security, and its limitations, and will be able to identify software security defects ranging from buffer overflows to development process flaws.
-- Readers will discover security, privacy, and trust issues arising from desktop productivity tools, and will understand cryptographic primitives and their use in secure systems.
-- Examples from Windows, Linux, BSD, and Solaris educate on operating system security tools and structures.
-- Available at informit.com or your favorite local bookstore or online reseller.
Product Information
The Craft of System Security
By Sean Smith, John Marchesini
ISBN-10: 0321434838
ISBN-13: 9780321434838
List Price: $59.99
Publisher: Addison-Wesley Professional
http://www.informit.com/store/product.aspx?isbn=0321434838
About the Authors
Dr. Sean Smith is an instructor at Dartmouth, where he researches how to build trustworthy systems in the real world. He has been working in information security for fifteen years, and has authored books and papers, including Trusted Computing Platforms: Design and Applications (Springer, 2005).
Dr. John Marchesini currently serves as a security analyst with BindView Corporation, working on the company's highly regarded RAZOR Research Team. Dr. Marchesini earned a Ph.D. in Computer Science from Dartmouth College, and holds a Bachelor of Science from the University of Houston.
About Pearson Education
Educating 100 million people worldwide, Pearson Education (http://www.pearsoned.com) is the global leader in educational and professional publishing, providing scientifically research-based print and digital programs to help people of all ages learn at their own pace, in their own way. Professionals, leaders, academics, experts, and consultants draft the books and online resources that help develop today's and tomorrow's business leaders. Top technology companies who have chosen Pearson Education as their publishing partner include IBM, Symantec, Cisco, Adobe, and Macromedia. The company is home to such renowned publishing and information portal brands as Informit.com, Prentice Hall Professional , IBM Press, Addison-Wesley Professional, Peachpit Press, Cisco Press, Sams Publishing, and Que Publishing. Pearson Education is part of Pearson (NYSE:PSO), the international media company. In addition to Pearson Education, Pearson's primary operations include the Financial Times Group and the Penguin Group.