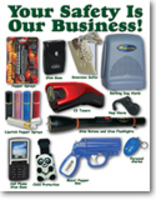 Chicago, IL (PRWEB) July 9, 2009
Nordale Services, a leading e-commerce distributor, is offering a 10% off coupon code (73056) online, for a limited time, to promote their recent security products and surveillance cameras line expansions. To offset the rising cost of shipping, Nordale Services now provides free ground shipping on orders over $100.
A complete selection of home and personal alarms, phone recorders, tap detectors, police batons, hand cuffs, pepper sprays, stun guns, security scanner wands, self-defense DVD's, diversion safes, covert GPS vehicle trackers, bug and camera detectors, night vision scopes, dummy cameras, wireless cameras, hidden cameras, motion activated video recording, remote monitoring, mini DVR's, and complete surveillance systems.
Nordale Services security products category now has a larger selection of low cost wireless and portable motion alarms, and door/window security products. Diversion safes, telephone recorders, personal alarms, and self defense products are also expanded and in high demand.
Stun guns, like other electronics, continue to become more advanced at reduced costs. Stun guns are legal in most states but are illegal in some. Pepper spray is legal in all states but some state restrictions apply. It's a good idea to ask first, before ordering stun guns or pepper spray online, to be sure there are no restrictions in your city or state.
Nordale Services surveillance products category now has a greater selection of low cost vehicle trackers (both post and real-time live), dummy cameras, wireless cameras, covert hidden cameras, micro DVR's, counter-surveillance bug detectors, and camera detectors. Nordale Services introduces three new lines of all inclusive self contained motion activated covert hidden camera DVR video recording systems.
Most people (and businesses) are under-protected. Emergencies can occur anywhere, and preparedness matters. Is there a day that crime isn't in the news? Child abductions, robberies, assaults, car-jackings, break-ins and home invasions. These products can help fend off attackers in dark parking lots, help parents catch babysitters or nannies doing dangerous or inappropriate things with their children, help business owners catch an employee stealing, track teenage drivers, monitor a cheating spouse, etc.
Nordale Services was founded by Walter Norris with a goal to provide customers with the most extensive product offering available in their respective categories. Nordale Services currently distributes within the continental USA, Alaska, and Hawaii. For more information regarding security or surveillance products, or to request a catalog, please visit their web site at nServices.com
Contact:
Walter Norris
Nordale Services
nServices.com
800-343-4961
# # #