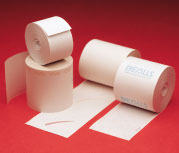 Security receipt paper rolls are an inexpensive way to protect your business
Danvers, MA (PRWEB) June 29, 2011
With receipt fraud on the rise, POS Supply Solutions, Inc. (POS Supply) is now offering security receipt paper rolls as a simple and effective way to reduce forging, counterfeiting and fraudulent returns.
POS Supply's security solutions help protect businesses from fraudulent activity and maximize loss prevention programs. Industries that will benefit from security solutions include retailers, casinos, gaming, lottery and other point of sale receipt applications. Customers can choose from one or more of the following solutions for their custom printed security receipt rolls and tickets:

Ultra-violet Inks - A clear ink applied to the rolls face or back in a specified location and pattern. An image appears when placed under a black light (UV) light source.
Thermo Chromic Inks - When rubbed an image changes color momentarily or disappears momentarily and then reappears.
Coin Reactive Inks - A clear ink applied to the back (non-thermal side) of the roll in a specified location and pattern. An image will appear when rubbed with a coin.
Scratch Inks - Unique ink offers overt and covert security options for POS rolls. Ink permanently changes color when scratched and cannot be duplicated.
Front to Back Print Registration of Images - Build security into the design of your receipt.
Void Pantographs - The word VOID appears when an attempt is made to copy a document.
"Security receipt paper rolls are an inexpensive way to protect your business," said POS Supply's President Stephen Enfield. "We work with our customers to design a receipt paper roll that matches their specific security needs."
POS Supply offers the highest level of security for your paper roll receipts. In addition, they have a complete line of Custom Printed Roll Paper and Fraud and Loss Prevention solutions. Customers can maximize their loss prevention programs with counterfeit detectors featuring a UV light that instantly locates security stripes or symbols that are imbedded in currencies, credit cards, traveler's checks and other legal documents. Magnifiers, UV markers, and Mini UV Lights are just a few other theft-deterrent products that make up POS Supply's fraud & loss prevention product offerings.
About POS Supply Solutions
POS Supply Solutions provides point of sale and transaction supply solutions, serving a full spectrum of hospitality, retail, financial, gas station, medical, wireless and business transaction applications. Established in 1999, POS Supply Solutions' corporate facility is located in Danvers, MA with distribution warehouses strategically located across the United States. Over the past 11 years, POS Supply Solutions has worked with thousands of individuals and companies to ensure they receive the point of sale supplies needed for successful and efficient business operations.
Contact:
Alethea Copelas
Product Marketing Specialist
POS Supply Solutions
(978) 406-4230
acopelas(at)possupply(dot)com
http://www.possupply.com
###