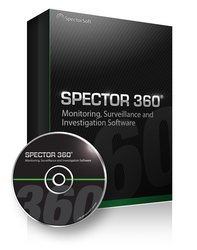 The 'Spector 360 Security and Productivity Analysis' provides a reseller partner everything it needs for a short-term analysis of a company's employee productivity and computer and application usage.
Vero Beach, FL (Vocus) July 27, 2010
Many security VARs offer a broad set of products and services, knowing that no single solution can do everything well. They're given training and incentives to sell each vendor's products, but virtually no guidance on how to leverage the strengths of different vendors' products to sell a more complete IT/security solution—until now. SpectorSoft Corporation today announced a new partner tool for security resellers, integrators and consultants, based on its enterprise monitoring software, Spector 360.
The "Spector 360 Security and Productivity Analysis" provides a reseller partner everything it needs for a short-term analysis of a company's employee productivity and computer and application usage. The analysis helps SpectorSoft Passport Partners to have meaningful discussions with their customers about problems they experience in the areas of productivity, security and compliance; and to offer a range of cost-effective solutions to immediately fix them. There is no charge to either the SpectorSoft partner reseller or to their customers for this service.
According to SpectorSoft Channel Sales Director, Mark Inda, "this type of detailed analysis, which would typically cost thousands of dollars to conduct, is helping resellers break into new accounts and immediately gain credibility by offering a valuable service that analyzes how a customer's own employees 'work' and how individuals or groups are driving greater ROI within that organization. Once in the account and able to show that security, productivity, and compliance risks exist, the reseller can propose a broader solution—leveraging the strengths of multiple products in their portfolio to solve specific problems, which in turn, can yield more revenue for the reseller."
Spector 360 Analysis adds Value for SpectorSoft Partners and their Customers
Biz Technology Solutions, a SpectorSoft Passport Partner Plus, credits Spector 360 with opening doors. "Leading with a Spector 360 Security and Productivity Analysis has been highly successful at reaching in and getting action," said Chris Wilkinson, IT Manager at Biz Technology Solutions, Inc. of the Charlotte, NC area. "Everybody needs a product like Spector 360. It's a great tool to open the doors."
The new Spector 360 Security and Productivity Analysis has driven positive results at Network People, another Plus Partner, in the greater Tampa, FL area. "Thanks to Spector 360 as a featured part of our company's new, focused security strategy, we have sold more security and monitoring product in the last quarter than in the previous 14 years combined," said Network President Nate Freeman. "It has changed our whole culture."
Once installed at the customer site, Spector 360 will automatically capture all employee activity on corporate computers and laptops, regardless of whether they are in the office, traveling, or working remotely. In a week's time, the Spector 360 Security & Productivity Analysis will help businesses of all sizes get the answers they need, to such questions as:

Are employees using web, instant messaging and email as intended?
Who spends time social networking during the day and what are the top websites visited?
Is critical data leaving the organization via email, webmail, chat, or external storage devices?
How are key business applications used and how much time is spent in those applications?
How do "top performers" work differently than others on their team?
Which unauthorized or unproductive applications are accessed from corporate PCs and laptops?
Is money being wasted on unused software licenses?
How to Become a SpectorSoft Passport Partner
Monitoring and surveillance is one of the fastest growing security segments today. By partnering with SpectorSoft, the worldwide leader in this category, you'll have access to the comprehensive sales, marketing and technical support you need to increase your bottom line and grow your business. To learn more about SpectorSoft's partner program, sales tools, and award-winning products, visit http://www.spectorsoftpartners.com or download a partner application at: http://www.spectorsoftpartners.com/apply.asp.
About SpectorSoft
SpectorSoft is the recognized leader and pioneer in the computer and Internet monitoring software market. More than 500,000 consumers and 50,000 businesses, government organizations, schools, and law enforcement agencies have purchased SpectorSoft products to help keep kids safe online, and to prevent Internet abuse, data loss, and compliance violations in the workplace. Products include Spector Pro, eBlaster, Spector Pro mac, and eBlaster mac for home and office use; and Spector 360, Spector CNE Investigator, and Spector Server Surveillance Edition for corporate-wide monitoring and reporting. SpectorSoft has earned numerous awards for product excellence and been named five times to Inc. Magazine's List of Fastest Growing Private Companies in the U.S. For more information call +1-772-770-5670 or visit http://www.spectorsoft.com. For more information about SpectorSoft's award-winning products for corporate monitoring and surveillance, visit http://www.Spector360.com.
# # #