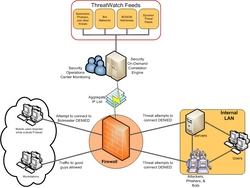 ThreatWatch™ is designed to provide critical protection through real time event correlation and blocking of threats via the firewall, IPS, WAF, or Endpoint.
San Diego, CA (PRWEB) April 19, 2010
Security On-Demand, Inc., the leading provider of comprehensive On-Demand compliance and security solutions, today announced the release of the ThreatWatch™ IP Reputation Service; an internet intelligence service that identifies internet based security threats that stem from known or suspected sources of fraudulent activity on the web.
The ThreatWatch™ IP reputation service is based on expert compiled intelligence from data sources that include information aggregated from over 30 public and private sources. ThreatWatch capitalizes on the value of utilizing up to the minute threat intelligence to identify and protect against the latest sources of security threats. Security On-Demand provides organizations protection by immediately acting on real-time threat information and blocking the traffic through the security devices that are protecting the network.
Peter Bybee, President and CEO of Security On-Demand commented, "The ThreatWatch IP reputation service provides a critically important layer of security visibility by examining network traffic and alerting on whether any monitored systems are communicating with 'bad' sources or destinations on the internet." He added "ThreatWatch™ is designed to provide critical protection through real time event correlation and blocking of threats via the firewall, IPS, WAF, or Endpoint."
ThreatWatch™ is offered as a cutting-edge security threat detection enhancement to Security On-Demand's SaaS (Security-as-a-Service) based security services. Companies and managed security service providers that monitor their networks with SIM/SEIM tools and event alerts from security devices are inundated with false positives that wastes valuable IT resources in validating and researching potential security incidents. This often results in poorly tuned and unresponsive configurations that miss the real attack when it eventually occurs. To combat this challenge, ThreatWatch™ acts a critical correlation contributor within the Security On-Demand Threat Analysis system to improve the accuracy and credibility of security events and alerts.
Peter Bybee, President & CEO added, "There are many technologies currently in the marketplace that utilize IP reputation as part of e-mail SPAM filtering or tracking and blocking malicious web sites. We are different because our service applies IP Reputation filtering and blocking to network traffic that is missed by other technologies." ThreatWatch™ works alongside and enhances IP Reputation based services that may already be employed for use with Web content filtering and e-mail anti-spam services.
ThreatWatch™ IP Reputation Service can integrate with almost any firewall or in-line security device. The service can be bundled into managed firewall (Firewall On-Demand), managed WAF (WAF On-Demand), Intrusion Monitoring (Managed IDPS), Managed Intrusion Prevention (IPS On-Demand), and managed Endpoint IPS (Endpoint IPS On-Demand). The service is offered as a standalone monitored security service or can be bundled in with a managed security service.
The ThreatWatch IP Reputation service is fully integrated into Security On-Demand's Threat Analysis and security operations environment which monitors, triages, and blocks threats as they are identified in real-time. Utilizing a Security-as-a-Service or Cloud-based security service model means that organizations can lower IT and compliance costs, pay only for the services that they use, and avoid long and expensive deployment cycles.
About Security On-Demand
Security OnDemand™ is one of the leading managed security and compliance SaaS providers in North America. Clients range from Fortune 5000 to Mid-enterprise and small businesses in a variety of industries including financial services, healthcare, retail, e-commerce, hospitality, government, utilities, energy, entertainment, manufacturing, biomedical, and many others.
Security OnDemand™ provides exceptional value by managing compliance, eliminating cap-ex investment, lowering costs, and protecting the organization from security threats. With decades of security experience, advanced security architecture, and extensive operations expertise, Security OnDemand helps organizations succeed in taking control of their security environment and assisting IT staff in proactively managing their security infrastructure.
If you would like to learn more about the services and solutions that Security OnDemand™ offers, visit http://www.securityondemand.com.
© 2010, Security OnDemand™, Inc. All rights reserved worldwide. Security OnDemand™, ThreatWatch™ and its product and program names and design marks are trademarks of Security OnDemand, Inc.
# # #