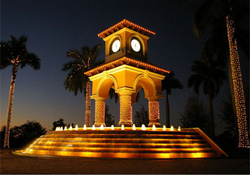 This program will change the access control industry for years to come
Port Saint Lucie, FL (PRWEB) September 18, 2008
SafeHouse Systems has created a new, all-inclusive technology upgrade program for communities with outdated safe access control systems. The security system software upgrade program allows communities with old equipment or outdated visitor management software to migrate to the new SafeHouse Solutions Program, which eliminates all recurring service and fuel charges. The result is a single monthly price, SafeHouse's One Price Solution that can be forecasted over a five year period for budgeting purposes.
For residential gated communities upgrading to the new security system software program, SafeHouse will supply each gatehouse with all the equipment necessary for operation. The community can choose from one of the five types of integrated security and access control devices manufactured by Sirit, Transcore®, or BAI® Barcodes, and after the community covers the cost of the devices and installation, SafeHouse will supply the equipment and include the maintenance of the equipment into the agreement.
"This program will change the access control industry for years to come," says Gary Glatt, Project Consultant for SafeHouse Systems. "SafeHouse Systems now offers a 24/7/365 service and support program that is tailored to the fixed budgeting requirements of gated community homeowners' associations."
Some of the services included in the program are a dedicated technician that manages only eight communities, a backup server at a secured location in case of natural disasters, off site log-in capability, monthly reports, unlimited training, and more. Equipment included in the program consists of Hewlett Packard Business line computers, a guest entry computer, gate control computer, dedicated integrated security and access control server, voicemail system for residents, printer for passes, monitors, battery backup, networking hardware, and more.
"At SafeHouse, it is our mission to provide the best controlled access solutions to our customers," says Glatt. "We have a proven track record for providing quality products and service, and our latest program is another step in that direction."
SafeHouse's special attention to reliability and accountability in providing vehicle entry access control for gated communities has won them many happy customers ranging from residential community associations and commercial site property managers to security personnel and gated community home owners. SafeHouse has been delivering advanced technology hardware and software security solutions since 1992, and with consumers' ever-expanding interest in personal security, it appears they will continue to do so for many years to come.
For more information, visit safehouse.cc.
About SafeHouse Systems, Inc.:
SafeHouse Systems has been delivering advanced technology hardware and software security solutions to gated residential communities since 1992. SafeHouse System's customers stretch from coast to coast and include controlled access commercial sites and buildings, as well as access control professional providers and installers.
###