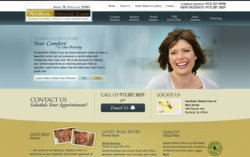 I believe dental sedation is one of the real critical components to success in dentistry.
Fairfield, NJ (PRWEB) January 17, 2012
The Dental Organization for Conscious Sedation (DOCS) recently conducted a study that found 30% of Americans avoid dental visits because of fear or anxiety. Dr. Jerry Strauss provides a wide range of dental treatments, including general, sedation, and cosmetic dentistry in New Jersey. He says sedation dentistry allows his patients to relax, which in turn helps create positive dental experiences and safe, effective results. When choosing a sedation dentistry practice, Dr. Strauss recommends discussing all available options for sedation, as well as the dentist's experience with each procedure.
Also commonly referred to as sleep dentistry, Dr. Strauss says the name can be misleading as the patient actually remains conscious throughout the entire procedure. The purpose of sedation dentistry according to Dr. Strauss is simply to put the patient in a state of relaxation to ensure they are not consumed by the fear they typically experience during dental treatment.
While intravenous sedation is the traditional method used for sedation dentistry, Dr. Strauss says less invasive methods are gaining in popularity, including inhalation sedation and oral sedation. Regardless of the method employed, Dr. Strauss says the dental procedure does not necessarily determine the type of sedation method. Instead, he stresses the need to address each individual treatment plan along with the specifics of a patient's case before deciding on the type of sedation.
Ultimately, Dr. Strauss says patients appreciate the sedation dentistry option at his practice because they do not have to feel the pain or experience anxiety associated with any number of the procedures he offers. However, Dr. Strauss says the main benefit of alleviating these concerns for his patients is the fact that it allows him and his staff to maintain the oral health of his patients. "Fortunately, sedation techniques allow us to comfortably treat the true dental phobics, those people that have had bad experiences and have anxiety about dental treatment and even the medically compromised. I believe dental sedation is one of the real critical components to success in dentistry."
About Jerry Strauss, DMD
Dr. Jerry Strauss earned his dental degree from the Boston University School of Dentistry. Upon graduation, he received the Academy of General Dentistry Award from the faculty at Boston University. Dr. Strauss is also a graduate of the Las Vegas Institute for Advanced Dental Studies. He has achieved Mastership Status in the Academy of General Dentistry, which is the highest honor the organization bestows upon its members. Dr. Strauss is a member of the American Dental Association, the NewJersey Dental Society, and the American Academy of Cosmetic Dentistry.
Aesthetic Dental Care of New Jersey and Dr. Jerry Strauss can be reached at (973) 287-3829, or found online at aestheticdentalcarenj.com or facebook.com/pages/Aesthetic-Dental-Care-LLC/120704677718?ref=ts.
###