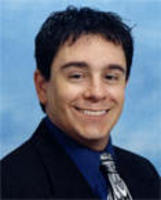 His whole life has been changed for the better because of sedation dentistry
Seattle, WA (PRWEB) March 11, 2009
Organizers of the first annual week devoted to safe sedation dentistry have named a Clarksville, TN practitioner the 2009 Safe Sedation Dentist of the Year.
Dr. Anthony Carroccia, 36, who operates St. Bethlehem Dental Care, was selected by a jury of his peers to represent the nearly 10,000 specially trained dentists across America who provide their patients safe, comfortable and anxiety-free sedation dentistry.
"Dr. Carroccia personifies the many thousands of quality sedation dentists who have made the commitment to offer this popular service to their patients and to participate in the ongoing education, planning and practice that make adult sedation dentistry extraordinarily safe," says Dr. Michael Silverman, national chairman of Sedation Dentistry Safety Week, March 9-13.
A veteran of the United States Army and a 1999 graduate of Meharry Medical College in Nashville, Dr. Carroccia and his dental team have safely, successfully and comfortably treated almost 1,000 Tennessee and Kentucky patients using sedation dentistry, a proven technique that is particularly popular with adults who were previously squeamish about visiting their dentists.
Dr. Carroccia has trained with some of the world's best sedation dentists and has taken courses in oral sedation and IV sedation from multiple teaching organizations. He is a Diplomate of the DOCS Education and a Master of the Academy of General Dentistry.
Dr. Carroccia says he favors oral sedation over IV solutions and other techniques when there is a choice because oral sedation is "a more conservative approach," both in terms of overall safety and cost to the patient. As he notes on his web site, "you'll feel like you've relaxed through your appointments" catching up on years of dental treatment in just a few appointments.
Dr. Carroccia has been offering sedation dentistry for six years using training, techniques and equipment recommended by DOCS Education, host of Sedation Dentistry Safety Week and the country's leading sedation dentistry educator. DOCS Education dentists alone have safely treated more than 1.25 million adult dental patients by carefully adhering to or exceeding guidelines of the American Dental Association and/or regulations set by individual state dental boards.
One of Dr. Carroccia's proudest cases involved a young adult who didn't like his teeth, avoided the dentist out of fear, and as a result developed a low self-esteem. "He wouldn't smile," Dr. Carroccia recalls. Thanks, however, to the vast improvement in comfort that sedation dentistry offers, Dr. Carroccia and his team were able to treat and repair the man's teeth and restore his smile. The patient has since become a successful, on-camera, local television celebrity.
"His whole life has been changed for the better because of sedation dentistry," says Dr. Carroccia. "The many stories such as his are what make my job so rewarding."
Sedation Dentistry Safety Week is scheduled annually in March to coincide with the switch to daylight savings time. Sedation dentists and their staff members, numbering almost 40,000 combined, are encouraged to use the week to review their training and procedures and to check all equipment and supplies to maximize patient safety.
Dentists who would like more information on sedation dentistry safety or training are encouraged to phone 877-325-3627. Consumers with questions about comfortable, anxiety-free sedation dentistry can call (888) 858-7972.
###