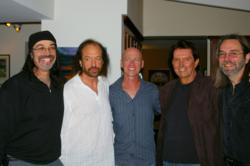 There's no way you can pull this off with those budget and time constraints, plus the fact that you've got musicians scattered, quite literally, all over the map. -- Anonymous (but well known) music industry pro.
Sedona, AZ (PRWEB) July 27, 2011
In May of 2011 the novel Cathedral of the Senses was published by Cathedral Rock Publishing and received great reviews. It was historic in the sense that it was the first MultiMedia eBook to contain its own music soundtrack.
"I started writing the novel a couple of years ago," said Cathedral of the Senses author, Stephen Smoke. "At times it felt like I was on a journey that would never end. But I'm extremely happy with the final product."
Even though Smoke had written the music for the novel (just as he had for its prequel, Trick of the Light), the music component almost didn't happen. In the fall of 2010 the author had a conversation with Sedona singer/songwriter/Internet Marketing guru, John David Balla. During the discussion they came up with the idea to have Sedona musicians record the songs.
However, Balla was set to leave for Peru less than a week later. He handed off the formidable task of recruiting Sedona musicians to Jim DeGeorge. It didn't help matters that recording would have to begin less than a week after Balla returned from Peru. But DeGeorge was more than equal to the task.
The second weekend in December found Smoke, Balla and DeGeorge recording Sedona artists in DeGeorge's makeshift converted recording studio--which was really an enclosed, empty pool attached to his house.
Nothing ran smoothly that weekend and just two hours before recording was supposed to begin Smoke said he was ready to pull the plug because even the most basic recording elements weren't functioning.
But somehow, and with help from the Sedona music community, the recording happened. But the challenges were far from over.
The following week Balla called Smoke and said all the recording done over that weekend--including many hours of video recording--were apparently lost because the hard disk crashed.
Yet a week later, the information was recovered and things started moving forward again. As Balla finished his work with the original recordings, they were sent to Mike Jung in San Diego. There Jung added various parts including guitar, strings and percussion.
Recording a fully-funded album, under ideal conditions is a big challenge. Yet recording 11 songs, many of them over a single weekend, with people who are meeting for the first time, performing songs they didn't write... It's no wonder people were skeptcal. But that skepticism disappeared in the light of the final product and those Sedona Sesssions became the Cathedral of the Senses music album/soundtrack, which can be heard for free at The Sedona Sessions site.
The Sedona-based musicians include Alex Ogburn ("All Right Now"), Keith Kavisic ("Cathedral of the Senses"), Nathan Trujillo and Jason Kevin ("Homeless"), Linh Renken & Ceta Singley ("Stream of Consciousness"), Jason Vargo ("World Is Broken"), Nathan Saith ("Paradox"), Lori-Ann Rella ("Alchemy of Belief"), Courtney Yeates ("Now and Zen"), Tim Jessup ("Tears of Angels Run"), Winter, Dylan Jung, and Lou Moretti. Well known LA singer/songwriter Barry Keenan produced and sang his unique and touching version of "Diamond Mind," and Smoke sang "Amsterdam." Sedona music legend Mike Lattanzi also contributed to the album, which was produced by Sedona resident, John David Balla.
###