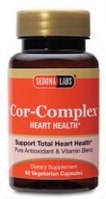 "Sedona Labs has formulated Cor-Complex™ to provide a wide spectrum of benefits that support heart health" - Michael Lee, Sedona Labs Product Development Director www.sedonalabs.com
Cottonwood, AZ (PRWEB) June 28, 2010
Heart health is not just about cholesterol anymore report scientific and medical authorities. Promoting overall heart health also means reducing the oxidation of cholesterol by free radicals, supporting healthy homocysteine levels, and promoting healthy C-Reactive protein (CRP) levels.
"Sedona Labs has formulated Cor-Complex™ to provide a wide spectrum of benefits that support heart health," says Michael Lee, Sedona Labs Product Development Director. "It is now well known in the scientific community that heart health encompasses healthy lipids, CRP, homocysteine and oxidation."
Cor-Complex™ Heart Health delivers

Homocysteine benefits with 100% of the daily value of a Vitamin B Complex and a robust dosage of N-Acetyl Cysteine (NAC)
Antioxidant benefits with Astaxanthin and NAC
CRP and lipid benefits with Astaxanthin
Sea Algae and the secret to cellular health
Astaxanthin is a one of the lead ingredients in Cor-Complex™ according to a Sedona Labs spokesperson. It is a powerful antioxidant derived from sea algae. Astaxanthin is fat soluble and is deposited in the cellular membrane which is composed mainly of fat. It is also deposited in the membranes of the mitochondria – the energy centers of all cells.
"By being absorbed at the cellular membrane level, Astaxanthin may help support healthy cells in all organs – including the heart," says Mr. Lee.
Astaxanthin has a unique structure that allows it to cover the interior and exterior of the cell. Astaxanthin's antioxidant activity is greater than that of beta-carotene or alpha-tocopherol vitamin E. (Miki 1991, Fukusawa 1998, Nagub 2000).
The walls of arteries are only one cell thick and maintaining their health is important to heart health. If you just have one cell you want it to be in good shape and Astaxanthin helps support healthy cell membranes in the artery wall according to an in vivo study (Li et al. 2004).
All new Cor-Complex is available in select health food stores. For more information you may also go to: http://www.sedonalabs.com or contact Donna Cappiello, Sedona Labs National Sales Director, at 888-816-8804 ex: 5503.
###