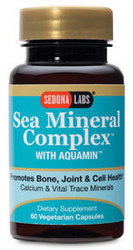 "Sourcing of minerals is crucial in obtaining efficient bioavailability" says Michael Lee, Sedona Labs Director of Product Development
Cottonwood, AZ (PRWEB) July 20, 2010
Sedona Labs®, a market leader in probiotic and digestive supplements, adds Sea Mineral Complex™ calcium and trace minerals to its line of premium dietary supplements sold through preferred health food stores.
Sea Mineral Complex™ is based on the proprietary ingredient Aquamin™, a seaweed-derived mineral source, rich in calcium, magnesium and 74 other trace minerals including zinc and selenium.
Breakthrough , Eco-Friendly and Sustainable Minerals
The Aquamin™ in Sea Mineral Complex™ is sourced from red algae seaweed (Lithothamnion calcareum), which is found in just three locations in the world, including the southwest coast of Ireland and Iceland, and has a unique honey-comb structure that enhances bioavailability and absorption of the natural minerals.
According to the supplier of Aquamin®, the mineral-rich algae is sustainably harvested at the end of its life cycle. The algae has a five-year life cycle and is harvested after it has settled onto the seabed in its calcified form. Only the mature material is harvested. The plant regenerates itself so there is no interference with the natural supply.
"Sourcing of minerals is crucial in obtaining efficient bioavailability," says Michael Lee, Director of Product Development for Sedona Labs. "The unique structure of Aquamin™ seaweed-derived minerals and their absorption is very different from minerals derived from rock sources."
Sea Mineral Complex Contains Essential Minerals for Vital Functions
The health benefits of calcium, magnesium and trace minerals like selenium and zinc are rapidly gaining public recognition:

In addition to bone health, calcium supports colon health and fundamental cellular health
Recent studies have found that selenium supports prostate health
Magnesium is required for healthy nerve function
Zinc supports a healthy mood in young women.
Sea Mineral Complex™ contains the 100% daily value of manganese, selenium, and chromium and 26% daily value of calcium.
A double-blind, placebo-controlled study published in Nutrition Journal, in February, 2008, found that Aquamin reduced joint pain and stiffness and improved activity levels over 12 weeks at a daily dosage of 2.4 grams.
Sea Mineral Complex™ with Aquamin™ is dairy free and suitable for vegans. Studies by the producer of Aquamin have shown that the seaweed minerals have higher bioavailability than conventional calcium salts and enhance bone mineral integrity to a greater extent than other mineral sources tested.
All new Sea Mineral Complex™ is available in select health food stores. For more information, please visit http://www.sedonalabs.com or contact Donna Cappiello, Sedona Labs National Sales Director, at Donna.Cappiello(at)Sedonalabs(dot)com.
###