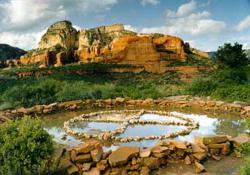 We had a powerful healing experience with Anahata in our Medicine Wheel Ceremony. It was life-changing and unforgettable. The land was beautiful and her wisdom was insightful and empowering.
Sedona, Arizona (PRWEB) May 31, 2013
World travelers and Spiritual seekers are drawn to Sedona, Arizona to experience the world-renowned healing energy of the Sedona vortices. Each healing vortex is unique and nestled among the breathtaking beauty of the ancient Sedona red rocks. Anahata Ananda of Shamangelic Healing, Sedona Arizona's premier center for shamanic healing and spiritual awakening offers unique sacred journeys to experience healing energy of the mysterious Sedona Vortex.
The demand for Spiritual Guidance and Shamanic Journeys with a focus on personal healing and Spiritual awakening continues to expand. These alternative methods integrate mind, body and spirit in way that traditional approaches don't. More individuals are seeking meditation practices, Shamanic Healing, Spiritual retreats and sacred land experiences. Sedona is the mecca for these offerings. Shamangelic Healing with Anahata offers a full complement of Sedona vortex journeys, healing sessions, spiritual guidance and personalized retreats. Providing participants with soulful experience is the primary intention of Anahata's Shamangelic Healing Center in Sedona.
A land vortex is identified where an amplified amount of spiraling energy is being emitted from beneath the earth. In Sedona, the energy vortices are amplified further by the presence of minerals and crystals in the rock formations and soil. Some vortex energies may feel soft and gentle and others strong.
Vortices are said to amplify what a person is feeling for example — happy, sad, emotional, uncertain, empty, joy, frustration, peace or Spiritual connectedness. Sometimes the energy is so subtle it will go unnoticed by most. Others who are highly sensitive may "see" clairvoyant images, others may "hear" clairaudient messages and others may "feel" clairsentient tingling or temperature fluctuations in their body. Infusing a vortex with a particular intention or object can shift or heighten the experience of the vortex such as a Stupa, Medicine Wheel, meditation bench, fountain, statue, flowers, crystals, sacred objects or altars.
In order to maximize the Sedona vortex experience, enlist an experienced guide. There are many ways to interface with a vortex. Since Sedona holds the imprint of various Native American tribes, visiting an ancient Medicine Wheel vortex is quite unique. Anahata of Shamangelic Healing offers the option of a personalized Medicine Wheel Ceremony among other sacred Sedona Vortex experiences. This ceremony invites the option of surrender and release, Spiritual connection, setting new intentions, gratitude blessings as well as a tool for learning and maintaining balance in one's life.
The Shamanic healer and teacher, Anahata has trained extensively with gifted shamans, energy healers and spiritual teachers from Peru, India, Asia and North America in order to artfully integrate the fields of energy healing, self-empowerment, shamanic teachings, emotional release, spiritual studies and visualization techniques. Blending the compassion and tenderness of an Angel and the wisdom and strength of a Shaman, Anahata guides journeys of profound healing and awakening. Her extensive client base spans the globe and includes business professionals, parents, couples, healers and individuals of all ages, who seek to heal and awaken their fullest potential.
Anahata is the founder of Shamangelic Healing and Shamangelic Retreats based in Sedona, Arizona. Clients seeking Spiritual awakening, transformational healing services, conscious relationship counseling, sacred land journeys or training courses choose from a wide range of options in order to create a tailored personal experience. Anahata's Shamangelic Healing Sanctuary is nestled beneath Sedona's famous Thunder Mountain, with 360 degrees of breathtaking views, walking distance from an ancient medicine wheel and healing vortexes, making this the perfect setting for healing and expansion.
For detailed descriptions of the Shamanic healing sessions, Sedona Vortex Journeys, soulful ceremonies, and training courses offered by Anahata visit http://www.ShamangelicHealing.com.