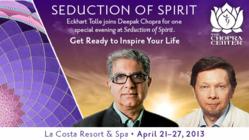 For the first time ever, Deepak Chopra and Eckhart Tolle are coming together to share their insight and wisdom at the Seduction of Spirit event.
Carlsbad, California (PRWEB) February 07, 2013
This April 21−27, 2013, the Chopra Center for Wellbeing will present Seduction of Spirit: Inspire Your Life at La Costa Resort & Spa in Carlsbad, California. Seduction of Spirit is the Chopra Center's signature meditation and yoga retreat, led by Deepak Chopra, other master Chopra Center educators, and special guest speakers.
The theme of this April's Seduction of Spirit retreat is "Inspire Your Life" and throughout the week, participants will be guided in practices of deep meditation, yoga, and other timeless tools for moving beyond limiting beliefs into higher states of awareness and new possibilities.
"Seduction of Spirit has been one of our most popular retreats for many years, allowing people to step away from life's daily demands and gain fresh perspective on who they are, what they really want, and how they want to use their unique gifts and talents to contribute to their families and to the world," said Chopra Center co-founder, Dr. Deepak Chopra.
"We are very excited about the upcoming Seduction of Spirit and the special guests who will be sharing their wisdom, inspiration, and practical insights. It's going to be an unforgettable and life-changing experience," Dr. Chopra said.
Seduction of Spirit will take place this April 21−27 at the Chopra Center's location at La Costa Resort & Spa in Carlsbad, California. Seating is limited, and early bird rates are available. Seduction of Spirit guests are eligible to receive special resort rates that can be extended before after the event so that they can stay and enjoy the many local attractions and activities that the San Diego area offers.
The guest speakers at this April's Seduction of Spirit event include:
● Eckhart Tolle, a spiritual teacher and author of the #1 New York Times bestseller "The Power of Now" and the highly acclaimed "A New Earth"
● Janine Shepherd, a former championship skier and Olympic contender who was told she would never walk again after a near-fatal accident. Through determination and one-pointed intention, she overcame the grim medical prognosis to become a commercial pilot, aerobatics instructor, and international speaker and best-selling author
● Anita Moorjani, a New York Times best-selling author whose remarkable NDE (near-death experience) and subsequent healing from end-stage cancer is one of the most amazing cases ever recorded
● Robyn Benincasa, a professional adventure racer who inspires people to do amazing things like climb Mount Kilimanjaro, run their first triathlon, start their own adventure racing teams, or launch their own business
● Dr. Ken Druck, an inspirational leader, speaker, and life coach who founded the Jenna Druck Center in 1996 after the death of his eldest daughter. To date, the Center has directly helped more than 7,500 bereaved families through its Families Helping Families program and trained more than 15,000 young women through the Spirit of Leadership program.
For more information, call 888.736.6895, or visit http://www.chopra.com/seduction
About the Chopra Center for Wellbeing
The Chopra Center for Wellbeing was founded by Deepak Chopra, M.D. and David Simon, M.D. in 1996. Located in Carlsbad, California, the Center offers a wide variety of programs, retreats, and teacher training programs that integrate the healing arts of the East with the best in modern Western medicine. The Chopra Center has helped millions of people around the world find peace of mind, physical balance, and emotional healing. The website http://www.chopra.com is your starting point on the path to wellness.
#
Media Contact:
Kathy Bankerd
(760) 494-1609