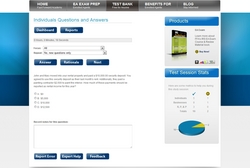 Maitland, FL (Vocus) June 8, 2010
Fast Forward Academy (Maitland, FL) expands the total number of questions available in its SEE test enrolled agent study tool to 800. The simulation is incredibly well done, retails for around $29 per exam, and is backed by the companies 30 day money back guarantee. The tool is discounted if credits are bought in bulk or with the book. The SEE exam tool compliments any enrolled agent study materials and dramatically helps reinforce the knowledge gained from the FFA study guide.
The Practice Exam product has many features. It provides lots of SEE statistics to show how users measure up against the community and tracks progress with detailed, but easy to understand analytics. Answers are tracked to measure progress via a momentum meter and test takers can move from question to question as needed. An exact timer helps keep track of the total test time to measure how fast each question is answered while stopping the exam at the 3.5 hours time limit. The exam allows users to mark questions for review and provides access to an on-screen calculator just like an actual special enrollment examination.
Rain Hughes, author of the company's enrolled agent study guide and co-founder says, "Expanding the number of questions was important to maintain a high level of quality and quite frankly, our students are demanding more and more questions every day. Yes, it is our product and we are biased, but it really does provide a SEE sample and the analysis of the student's performance is second to none. The tool doesn't just tell you your score, it exposes weak areas and compares you to everyone else using the same tool, it's a phenomenal product and one we're glad to have our name on and we will continue to make it better and better."
Reports provide performance results, rationale, correct answers. The Exam Analysis Report allows customers to view personal and community performance for each section of the special enrollment exam. A detailed performance review specific to the Part, Section, Sub-Section, and Subject with areas of weakness highlighted is displayed to focus study efforts. Second, the Exam Answers Report gives studiers a chance to view each exam and dive into specific questions, answers, and rationale. An Answer Choice Analysis is also provided and compared to the community to expose trends and opportunities in how questions are answered. The Exam Time Report shows overall time stats as well as specific time performance for each exam taken. Again, the community is also measured so anyone can see how their time per question compares to others taking simulations.
About Fast Forward Academy
Fast Forward Academy, LLC provides companies and individuals around the world with the tools to help them efficiently manage their professional education needs. The name Fast Forward Academy reflects the scope of our mission – helping students and professionals accomplish more in less time. To realize this goal we make every effort to provide the most useful and efficient enrolled agent study material in the market place, all designed to help our students Learn Fast and Pass. Our principal focus is to supply rapid training and streamlined continuing education to professionals in the fields of taxation, securities, and insurance.
# # #