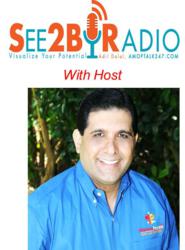 Live a Legacy, Leave a Legacy!
Austin, TX (PRWEB) August 29, 2012
Adil Dalal, host of See2Be Radio, will be airing a special five-part series, on "Live a Legacy, Leave a Legacy™" starting August 31, which will explore the essential steps needed to realize the full potential of his groundbreaking concept - the Power of Visualization™. "Live a Legacy, Leave a Legacy" will be an exclusive step-by-step guide for unveiling the mysteries of success by exploring the behaviors and thinking that propels great leaders. Each part will be 30 minutes. Part 1 of the series will air on http://www.See2BRadio.com at 11:30am CST on Friday, August 31 and will be available at http://www.pinnacleprocess.com/see2b-radio.html for a week. Parts 2, 3, 4& 5 will air on September 7, 14, 21 and 28 respectively at 11:30 am CST on See2bradio.com.
Listeners from around the globe have described Dalal's "Visualize Your Potential" radio program as "motivating", "inspiring", "amazing" and "outstanding". According to Dalal, "legacy" is not only for the likes of Abraham Lincoln, Mahatma Gandhi, Dr. Marin Luther King, Dr. Napoleon Hill, Nelson Mandela, Steven Covey, Steve, Jobs, or Michael Phelps, Michael Jordon and others but every human being has the potential and birthright to create his or her own "immortal legacy" on this planet.
Only 5% of the population defines their life's purpose, and only about actually 1% achieve it. "Live a Legacy, Leave a Legacy" series will give the audience the opportunity to put themselves on the path to creating and executing that legacy and positively changing their lives forever. Dalal describes visualization as a transforming power which has driven the success of individuals and organizations throughout history. Whether that talent has been innate or learned, the host of See2B Radio says that such a power can only be harnessed by the creation of a clear picture of a personal mission. Dalal, a renowned project leadership practitioner, will guide his audience step-by-step, through the process of creating a powerful personal mission statement and provide a 5-step approach to execute it, based on his best-selling book, The 12 Pillars of Project Excellence.
Dalal teaches these tools from his own experiences of successfully leading over 300 projects and achieving his personal goals of being a successful CEO, author, keynote speaker, radio show host, PhD student, and Chair of Human Development & Leadership division of ASQ, and most importantly a father and a husband. Dalal lives the motto of his company, "You are more than you could ever imagine™"
James Mitchell, recipient of ASU's leadership scholarship program, and a weekly listener of See2B says, "Adil's See2B has provided an incredible springboard of learning for those who want to realize their hidden potential. This is one of the best shows for relating the power of visualization that I have come across since I have begun to develop my personal leadership culture". A listener from the Netherlands says, "Adil has a great way to engage his listeners as I felt captivated for 30 minutes. I look forward to listening to Adil and learn to visualize, to realize my dreams." Raven Davis says, "This show will change millions of lives".
"Live a Legacy, Leave a Legacy" series also provides the opportunity to listeners to win a free copy of Dalal's groundbreaking book, The 12 Pillars of Project Excellence, a 700-page workbook on project, personal and corporate excellence. All the listeners need to do is listen to all 5 parts of the show, hit the "like" button under the player on see2Bradio.com and write and submit a short comment about each of the 5 part series. All of those who meet the criteria will be entered to win a free copy of Dalal's best-selling book. The host will announce the winner at the end of the See2B show on October 12.
Adil Dalal is the CEO and President of Pinnacle Process Solutions International ®, LLC. He is an author, entrepreneur, keynote speaker, innovator, radio show host, adjunct professor and an internationally recognized expert and thought leader in leadership, lean/flow technology and in project leadership. He is the author of The 12 Pillars of Project Excellence™, and co-author of The Lean Handbook: A Guide to the Bronze Certification Body of Knowledge.
For more information please visit Pinnacle Process Solutions, Intl.®, LLC at http://www.pinnacleprocess.com or contact Pinnacle Process Solutions at info(at)pinnacleprocess(dot)com or at (512) 212-1166.