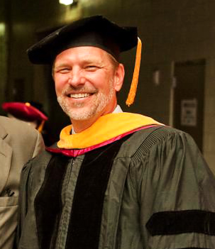 We need trailblazers who have a clear vision and an executable plan on transforming the lives of coming generations through higher education.
Austin, TX (PRWEB) April 17, 2013
According to South African legend Nelson Mandela, "Education is the most powerful weapon which you can use to change the world." This profound statement clearly demonstrates that the ripple effect of educating individuals can result in a tidal wave, washing away the ignorance plaguing the minds of millions across the world. This in turn kindles the wisdom required to bring about true transformation in this world.
Dr. Hank Radda, Provost of Grand Canyon University headquartered in Phoenix, Ariz., has spent a major portion of his life in academia generating that ripple effect of education. Dr. Radda, an accomplished executive, has held several leadership positions including Dean of Doctoral Studies, Director of Academic Affairs, and Program Chair of Health Administration.
Dr. Radda opens up to the See2B host, Adil Dalal, about his personal life, his career, his passion, his mission and about the future plans of Grand Canyon University led by the executive team of Brent Richardson, Brian Mueller and Dr. Stan Meyer. During the interview, Dr. Radda describes what excites and concerns him about his new role as a provost, and also shares his vision for the future of the University. He predicts the rapid shift to eLearning and why offering a seamless blend of distance learning satellite sites supported by a brick-and-mortar "home" is the winning formula for the future of education. He discusses the fundamental qualities of leadership in all industry sectors and how the leadership programs at GCU are geared for developing high-quality leaders who will have an immediate positive impact on our society. When asked if the youth should follow the example of billionaire college drop-outs like Steve Jobs, Bill Gates, Mark Zuckerberg and others, Dr. Radda provides invaluable advice about the importance of a solid education in this dynamic work environment.
Dalal, who is himself pursuing his Ph.D. degree in Performance Psychology from GCU, says, "It was truly an honor to interview Dr. Radda on See2Bradio. We need more trailblazers like Dr. Radda and other executives at GCU who have a clear vision and an executable plan on transforming the lives of coming generations through higher education."
Dr. Hank Radda's interview with Adil Dalal will air from April 19 from 11:00 CT to May 3 on See2BRadio.com (http://www.see2bradio.com or http://www.pinnacleprocess.com/see2b-radio.html). If you have any questions, please contact Pinnacle Process Solutions, Intl®, LLC at info(at)pinnacleprocess(dot)com or at (512) 212-1166.