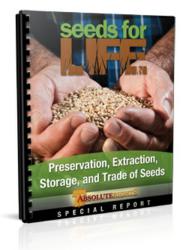 With grocery stores making food available to anyone, the majority of people have lost all food-growing skills.
Austin, TX (PRWEB) April 11, 2012
When it comes to emergency preparedness planning, seed savers strategies should be right at the top. The breakdown of the food supply chain is imminent, whether it is caused by a disaster or an emergency situation. When a disaster hits, food and water are the first supplies that people lose access to.
In response, Absolute Rights has published "Seeds: Preservation, Extraction, Storage, and Trade of Seeds," an informative Special Report. It shares extensive knowledge on survival gardening and ensures its readers will have the wherewithal to survive in a food shortage situation.
According to a recent AbsoluteRights.com article, now is the time to learn seed savers strategies, before a disaster strikes. It takes time to gather seeds, plant them, and harvest the crop. Most people have never grown anything in their life, so there is a sharp learning curve. Companies are selling uneducated people seeds that are hybrids, or genetically modified. These seeds are not the kind that a family can survive on, and the Special Report stresses this notion.
Another misconception is how much seed it takes to feed a family for an extended amount of time, the article said. That is why it is a good idea to begin growing food now to learn how to do it, how long it takes, and what the best varieties are.
Not all seeds are the same, said the article, because some crops do well in certain areas of the country and some do not. There are areas of the country that have very short growing seasons, which will require different emergency preparedness planning steps to get through the long months that can't support crops.
With grocery stores making food available to anyone, the majority of people have lost all food-growing skills. These need to be re-kindled, said the article, along with learning how to choose the best survival seeds to have on hand.
The article said another good strategy is for a group of people to plant a community garden so they can all share in the responsibilities. This type of strategy may be easier than each family trying to handle the entire garden themselves. Local co-operatives are also a good idea, and can be great sources of information.
Absolute Rights informs patriotic Americans on their given rights, plus helps protect those rights from government intrusion. Most importantly, it prides itself on alerting people when their rights are being threatened, creating an active and informed community.
The food supply system in this country is being broken, the AbsoluteRights.com article said, and strategies need to be put into place by locals to take responsibility of their food supplies. Learning seed savers strategies now can save lives in the future.