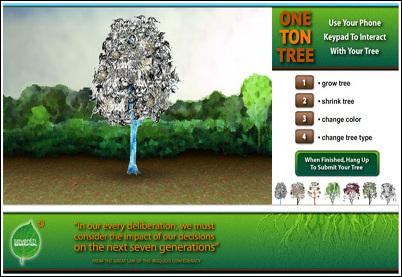 Hey I feel like I made a difference today, I planted a tree.
Toronto, ON (PRWEB) April 20, 2007
SeedCollective's "Green cell phones" serve nature, enabling wireless activists to grow real trees, sponsored by Seventh Generation for urban reforestation in New Orleans for Earth Day.
Anyone can ecollaborate© and plant a tree of support in New Orleans for Earth Day, and beyond. Your cell phone or land line can "branch out," going green in support of the hottest topic- Global Warming and the environment. A recently developed technology provides an easy, accessible and fun way for anyone to contribute to greening up urban spaces. Because almost everyone in North America has a cell phone and a computer and because the latest tech is here to stay, the solution to the problem of the environment is to make the technology serve Nature.
SeedCollective, a Canadian based organization conceived of the idea in 2003, but it took until now for the tech and the sponsorship by Seventh Generation, the nation's leading supplier of non-toxic, environmentally safe household products to make the capabilities available online.
Seventh Generation, will donate $1 for each of the first 40,000 virtual trees created by participants of "One Ton Tree" to Replant New Orleans, a non-profit volunteer arborists organization who will be planting trees 24 hours a day for 100 hours, leading up to Earth Day April 22nd. These are real greenbacks, one hundred percent of that dollar goes directly to Replant New Orleans. The city lost 50,000 trees in Hurricane Katrina, that's a lot of needed shade trees gone, so participation in this "groundbreaking" project will make a difference.
Your participation will ensure that thousands of trees will be planted, each one of which will absorb One Ton of CO2 in its' lifetime, hence the name One Ton Tree. The trees, shrubs, plants and soil regeneration provided by Replant New Orleans will make a huge difference in bringing the city back to life.
It's as easy as 1, 2, 3, and fun to grow a tree. You need to have your cell phone or land line handy as you log on. There is a toll-free number to call. You will be instructed to enter an access code, which will make your virtual seedling appear. By continuously pressing #1 you will start to grow your tree. You can choose to grow any of the 7 fabulously unique tree types available, change their colors and sizes to personalize it. You may see other trees being grown online in real time by other participants. The image of your tree can be downloaded as a memento of this very unique and historic event reminding you that you made a difference for the environment.
Eollaboration is likely to become the latest green cultural phenomena,with bunches of people gathering at cafes with wireless available communing with their cell phones and lap tops as a tribe of wireless green activists watching each others' trees being created.
The SeedCollective and Seventh Generation have already proven that this new green technology works. Seed participants have grown hundreds of virtual trees at an installation at the Firehouse Gallery in Burlington, Vermont in 2006. Those virtual trees become 150 real trees that will be planted on May 5th in Burlington, by Branch out Burlington, a volunteer arborists organization.
At the Natural Products Expo East in Baltimore, Maryland, in October 2006, Seventh Generation installed SeedCollective in their booth. Through partnership with the Department of Natural Resources and Tree-Mendous Maryland, more trees will be planted in Maryland in the spring of 2007. Comments from participants testify to its effectiveness. "Hey I feel like I made a difference today, I planted a tree." and "It's fun!" plus, "The kids love it."
About SeedCollective
Seed (http://www.seedcollective.org) is the world's first wireless reforestation/art ecocollaboration© and fund raising platform online. Since 2005 the SeedCollective was originally an on site installation for community art collaborations shown at International Art Fairs and Galleries. Seed has evolved, and will continue to grow and redefine how technology, humans and nature can support one another creating a new eco medium. SeedCollective, founder and Creative Art Director, Napoleon Brousseau is an artist whose works have been based on environmental concerns for over 25 years. SeedCollective is currently made up of Galen Scorer, Gabe Sawhney, Dave Reynolds, Adam Bacsalmasi.
It's not just for tree hugging eco-freaks either. For non-believers in Global Warming, and for those who simply want to be artistic, SeedCollective lets you co-create in the project as a public art event with a tree theme. The virtual trees are phantasmagorical. You can download your tree image for framing and hanging, reminding you that you are indeed an artist. Think that your thumbs aren't green or that you haven't got a creative bone in your body or that technology sucks? Well think again. Your problems can now all be solved with one easy phone call.
# # #