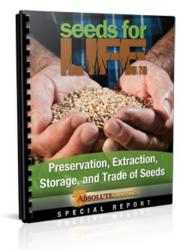 The prices of key farm commodities continue to rise – in some cases almost doubling since last summer.
Austin, TX. (PRWEB) March 07, 2012
Absolute Rights explains that the best survival seeds are something that all emergency preparedness plans should include. Most grocery stores have about a three day supply of food for their shelves today's newsletter explains, and even less for high demand staples like bread and milk. Emergency preparedness now could mean survival later, today's newsletter reveals, so the big question is, are people prepared for such a situation?
Absolute Rights published today in their newsletter, the following 10 top signs they suggest to consider about global food shortages which may be just around the corner:
1) The prices of key farm commodities continue to rise – in some cases almost doubling since last summer, the newsletter explains.
2) Drought has forced some big wheat producing countries to ban all exports the newsletter reveals, leading to reduced world-wide supplies.
3) The amount of food in the world's silos and stockpiles keeps falling at an alarming rate, adds the newsletter.
4) During the 2008 credit meltdown the newsletter says, the political and banking classes feared the next step could have been mass starvation – and we're more vulnerable today!
5) In a prolonged financial crisis, the newsletter warns credit lines could be cut, making even available food unable to be delivered... and left to rot unused.
6) The trend of oil prices continues upward the newsletter reports, affecting food prices across the board – and forcing some forms of food production to no longer be viable.
7) Shrinking water supplies are already forcing some nations into a state of near total dependency for basic food staples the newsletter reveals.
8) Diseases such as "wheat rust" are a worrisome threat, adds the newsletter putting global food stability at extreme risk.
9) The newsletter reports that the rapidly depleting Ogallala Aquifer has U.S. farmers fearing a return to the days of the "Dust Bowl."
10) The elimination of the family farm explains the newsletter, and the rise of massive agribusinesses have concentrated the control of food production in the hands of just a small but powerful group.
Disaster emergency preparedness is essential for survival, the Absolute Rights newsletter reports, and requires people to have the best survival seeds to be able to survive
###