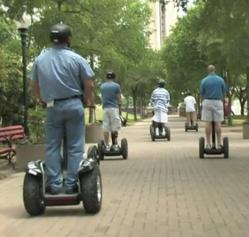 Although the war is technically winding down, we are seeing greater numbers of the most catastrophic injuries, including multiple amputations, said Segs4Vets President Jerry Kerr
Washington, D.C. (PRWEB) May 14, 2012
Last year the number of military service members who lost limbs in combat in Afghanistan reached an all time high. On May 16th 56 wounded warriors, including 39 amputees, will each be awarded a Segway® PT (Personal Transporter) from Segs4Vets to improve their mobility and independence. The ceremony will be held at 11 a.m. at the Marine Corps War Memorial in Arlington.
Segs4Vets, ranked as one of America's best charities and recipient of the prestigious Spirit of Hope Award from the Office of the Secretary of Defense, will present the personal Segways to injured service members at the largest presentation ceremony ever held in Washington. Segs4Vets, a project of Disability Rights Advocates for Technology (DRAFT), is dedicated to helping severely injured service members return to independence and productivity after returning from war.
General Ed Eberhart, USAF (Retired) and Congressional Medal of Honor Recipient Colonel H.C. "Barney'' Barnum USMC (Retired), Segs4Vets board members, will participate in the presentation which is open to the public.
The recipients include 27 soldiers, 24 Marines, four Airmen and one Air National Guardswoman. Twenty-seven lost one leg, 12 lost two legs and three also lost a hand. The other recipients sustained a range of injuries including extreme orthopedic, soft tissue and spinal cord damage which hinder their ability to walk. The one female recipient, an Air National Guard Sergeant from Massachusetts, lost the sight in one eye and suffered severe nerve damage. Most of the recipients were injured in IED explosions in Iraq and Afghanistan.
The wounded warriors come from Colorado, South Dakota, Illinois, New York, Arkansas, Georgia, Texas, Virginia, Pennsylvania, North Carolina, Massachusetts, Maine, New Jersey, Florida, Maryland, California, Missouri, New Hampshire, Delaware, Iowa, Michigan, Minnesota, Tennessee, Indiana, West Virginia, Alaska and Rhode Island as well as Peru, the Philippines and Puerto Rico.
"Although the war is technically winding down, we are seeing greater numbers of the most catastrophic injuries, including multiple amputations and serious genital injuries, among our recipients,'' said Jerry Kerr, the president and a founder of Segs4Vets. "In the 11th year of war, the American public remains largely isolated from the extraordinary price paid by our military and their families. This is the seventh year of our program and we still have hundreds of severely injured applicants on our waiting list. There has been virtually no let up in demand and we do not expect to see any change in the immediate future.''
"We are deeply grateful for the service and commitment of the Arlington County Police Department to the Segs4Vets program. These wonderful public servants volunteer their time to make certain that our recipients do not have to wait for a formal presentation ceremony to receive their award. Instead they receive it when they are physically ready, providing the greatest benefit to them and their families. We cannot thank them enough,'' said Kerr.
A combination of increased foot patrols in the mountainous terrain of Afghanistan and extraordinary improvements in combat medicine contribute to the high number of amputations as well as the high survival rate of the injured service members.
The Segway, a battery powered two wheel mobility device, has found an avid following among the disabled because its universal design allows almost anyone to use it without drawing attention to the disability. Segs4Vets has awarded nearly 1,000 Segways since 2005 and plans to award more than 2,000 more in the next five years. Recipients use their Segways to attend college, remain on active duty, work in private sector jobs, and engage in recreational activities and everyday tasks like shopping with their families. Recipients say the device makes it easier for them to stand longer and travel farther without fatigue and the need of extra pain killers.
For more information, visit http://www.Segs4Vets.org.
About Segs4Vets
Segs4Vets was started in late 2005 by Disability Rights Advocates for Technology, a 501c3 created to represent people with disabilities who refuse to be defined by their disability and whose passionate enthusiasm for participation in life activities is supported by Universal Design and new and emerging technologies. The organization is a member of Military Veterans & Patriotic Service Organizations of America and has been certified as one of the best charities in America by the Independent Charities Seal of Excellence, an honor accorded fewer than 2,000 of the more than one million public charities in the United States.Segs4Vets began as an effort to thank disabled American veterans for their sacrifice and for changing the face of disability in the United States. For more information, visit http://www.segs4vets.org.