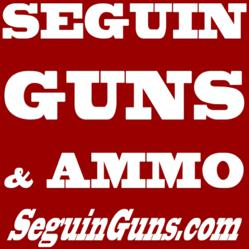 They give you the best price in Seguin. I would recommend them to my friends and family anytime. I will always come back.
Seguin, TX (PRWEB) June 27, 2013
They were slated for a big kickoff this month, however, due to nationwide shortages on firearms and ammunition, Seguin Guns has been forced to put that off.
The gun control debate has resulted in a huge run on guns and ammunition of all types - especially semi-automatics. With the market so scarce, the South Texas gun dealer will focus on buying and selling used guns for the time being. Seguin Guns, a federally licensed firearm dealer, will also be available for processing firearm transfers (for a nominal fee).
It is difficult to predict when suppliers and distributors inventory will be replenished enough to keep up with the demands of the market. Or perhaps, the demand will greatly decrease to balance out with the supply.
In the meantime, interested customers can stop by Seguin Guns, located at 3552 Alternate 90 East in Seguin, to sell used guns and/or buy whatever may be available. The business is in the same building as Seguin Gold Silver & Coins.
If someone is looking to buy a firearm from another individual or on-line, Seguin Guns can be the agent to process the transfer of ownership.
In the near future more details will be released about when Seguin Guns grand opening will be. When they do have it, they will offer all types of guns, ammunition, hardware and accessories.
Seguin Guns serves not only Seguin, but New Braunfels, San Marcos, Lockhart, Lytle, McQueeney, Gonzales, Luling, La Vernia, San Antonio, Austin & other Texas cities and surrounding areas.
Seguin Guns is a division of Seguin Gold Silver and Coins open every day 7 AM to 11 PM. They buy gold, silver, platinum, jewelry & coins. They serve Seguin, New Braunfels, McQueeney, Gonzales, Luling, San Marcos, La Vernia, San Antonio, Austin & other Texas cities.
For more information call (830) 556-1966 or go to http://www.seguingold.com