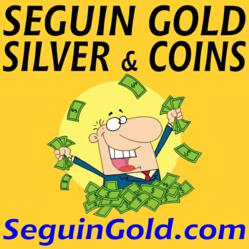 Roman is very professional and good at his job. Pleasure doing business with him.
Seguin, Texas (PRWEB) May 30, 2013
Got guns? Got ammo? For those that live in the Seguin, Texas area, they will have another choice of where to get both, Seguin Gold, Silver & Coins announced a few months ago that it would be branching out and opening a gun store. That day will soon be here, as the owner, Jorge Gurza, prepares to launch the new business venture.
With the gun control controversy brewing all over the nation, people have had a lot of challenges when it comes to buying different types of guns and ammunition. One gun dealer in the Seguin area actually closed because of the controversy and the politics surrounding it. That store closing left a void in the local market that will now be filled by Seguin Guns.
The location's address, at 3552 Alternate 90 in Seguin, is the same as for the gold buying business. Customers will have the convenience of a "one-stop shop" to sell their unwanted precious metal items and to order and/or purchase their firearms, ammo and accessories. The store will open sometime this summer - the exact date is to be announced.
Seguin Guns, a Federal Firearms Licensed (FFL) dealer, will also be able to handle the transfer and purchase of new and used guns acquired over the internet. Therefore, if someone buys a gun from an online auction, they can arrange through Seguin Guns to pick it up and to transfer ownership (for a small fee).
Citizens of the Seguin, Texas area, located east of San Antonio along the I-10 corridor, are excited about the opening of the new gun shop.
Soon that anticipation will become a reality and Seguin Guns is sure to be an area favorite for all who are seeking quality firearms, accessories and ammo at a fair price.
Seguin Gold Silver and Coins is open every day 7 a.m. to 11 p.m. They buy gold, silver, platinum, jewelry & coins. They serve Seguin, New Braunfels, McQueeney, Gonzales, Luling, San Marcos, La Vernia, San Antonio, Austin & other Texas cities.
For more information, call (830) 556-1966 or go to http://www.seguingold.com.