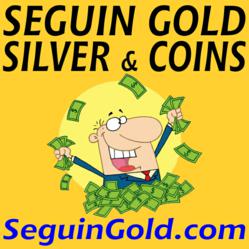 Amazing service! Amazing offers! Really honest and respectful!
Seguin, Texas (PRWEB) February 21, 2013
Seguin Gold Silver and Coins, located at 3552 Alternate 90 in Seguin, Texas, is happy to announce that they will be having their first Customer Appreciation Day on Saturday, March 30, 2013, from 12 pm to 5 pm. The precious metals buyer wants to show their thanks to all their customers - both existing and new ones.
"We are honored that people choose our services and we want to make sure they know it," the owner stated.
The event will include food and drinks, promotional giveaways, and customers will get a 10% higher payout for selling gold, silver and coins during the event. Plus, if an existing customer refers a new customer and Seguin Gold Silver and Coins buys something from that same new customer, the person that referred them will get a $10 commission! The cash for gold buyer plans on holding the customer appreciation event quarterly on the last Saturday of the month that ends the quarter. Therefore, the remaining events for 2013 are scheduled for June 29, 2013 and September 28, 2013 (weather permitting). Please note there will not be an appreciation day in December due to the holidays.
Since their customers are obviously the backbone of their operation, Seguin Gold Silver and Coins wants to do a little something to extend their gratitude for making their business a success. It is also an effort to attract new clientele so they too can discover why Seguin Gold Silver and Coins has such loyal customers. Plus, they can get the most for their unwanted and unneeded gold, silver, platinum and coins.
"We want people to bring their friends and family, or just themselves, so they can take advantage of all we have to offer on Customer Appreciation Day and get paid well for their unwanted gold silver and coins," the owner added.
Seguin Gold Silver and Coins is open every day 7 AM to 11 PM. They buy gold, silver, platinum, jewelry & coins. They serve Seguin, New Braunfels, McQueeney, Gonzales, Luling, San Marcos, La Vernia, San Antonio, Austin & other Texas cities.
For more information call (830) 556-1966 or go to http://www.seguingold.com
Para informacion en Español llame (830) 556-1966 o visite http://www.seguingold.com/espanol
###