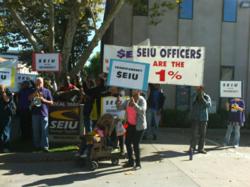 SEIU Officers are the 1%. Union dues are for Union Members.
Sacramento, Calif. (PRWEB) November 02, 2012
On May 4th, 2012, the Judge ruled that Mariam Noujaim could inspect SEIU Local 1000 finances. According to court documents, she cannot make photocopies or bring the CPA. She is allowed to bring one more SEIU Local 1000 Member. (See the transcript: http://www.saccourt.ca.gov, Civil Case# 34-2011-80000881).
"As of March of 2010 California Employees were on furlough, and the budget was in poor shape. Our Group, SEIU Members and California Residents, came up with an idea on how our Union could play a major role to save the budget and stop the waste. We need to start with our own budget," reports Linda Disney, Member of Occupy SEIU.
For over 2 years Mariam Noujaim, SEIU Local 1000 & OCCUPY SEIU member, has tried to inspect SEIU documents per California Corporation Code 8333. She had to take her own Union to court to enforce the law.
On August 27, 2012, over 2 years since her first request to inspect the documents, she received a response from SEIU response in reference to the Judge's order. Allegedly, they are requesting more time to get the documents from storage.
OCCUPY SEIU wants to know the facts before the elections.
Occupy SEIU Group believes that Union dues are for Union Members. OCCUPY SEIU wants to know how, what, why, and where member dues are spent?
On October 17th and 25th, OCCUPY SEIU Group protested in front of SEIU HQs demanding transparency and how members' dues are spent.
"SEIU responded to our request for transparency with a convenient date, November 27th, after the election. Occupy SEIU is keeping the pressure on SEIU Local 1000 Officers until we inspect the finances," said Erica Soule.
On June 6th, 2011, Mariam Noujaim filed an election protest after observing and filming SEIU Officials breaking their own ballot rules.
On September 8th, 2011, Jon Ortiz wrote an article in the Bee Newspaper, titled "SEIU Local 1000 To Consider Six Figures Salaries For Officers."
"SEIU Officers are the 1%. Occupy SEIU will fight for transparency," said Mariam Noujaim.
Refer to the Occupy SEUI Web site for letters, articles, documents, court case information, pictures & videos. More videos and pictures of both protest rallies at the SEIU HQs in Sacramento are available on Dropbox(ID: mariamnoujaim@comcast.net, pass: seiuprotest).