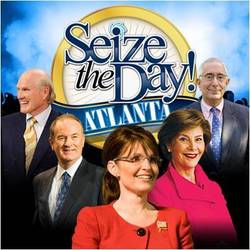 We are pleased with the current interest we've had in our Atlanta seminar
Atlanta, GA (Vocus) October 20, 2010
After completing a successful Seize the Day seminar in Columbus, Ohio, on October 6th, Seize the Day, Inc., is now gearing up for its next motivational business seminar in Atlanta on November 9th at Philips Arena. The event is expected to draw a large crowd to the downtown Atlanta business district.
According to Seize the Day spokesman Doug Williamson, tickets are currently selling at a brisk rate. "We are pleased with the current interest we've had in our Atlanta seminar," stated Williamson. "We are expecting a capacity crowd. We firmly believe they will not be disappointed in the speakers or in the exciting activities we have planned throughout the day."
Several headliners who will appear at the Atlanta event also spoke at the Columbus event. NFL great Terry Bradshaw kept the crowd engaged with stories from his Pittsburgh Steelers days. "Back then we called our own plays, we made our own choices," said Bradshaw. "I didn't want to fail with somebody else's advice. I wanted to be in charge. Sometimes you just have to do that. It's amazing what can happen when you decide to take charge."
Fox news icon Bill O'Reilly shared encouraging words of wisdom. "I was blessed with talent, but so are you," stated O'Reilly. "I have a decent intellect but you probably do, too. I am unbelievably obnoxious and you probably aren't. So you're way ahead of me."
Former First Lady Laura Bush inspired attendees with personal memories, both personal and painful, from her days in the White House. "No matter what happens, this country is like a big ship," she stated. "We may lean left or right but we sail on. I feel so fortunate to have experienced such a slice of history."
Actor-commentator Ben Stein keyed on today's economy. "There's never been a perfect time in the economy. This time around it's a little different. We had a housing collapse, which led to a credit collapse. In most families, everybody has to make a living. One way to do that is to invest and trade in the stock market. While it's difficult to time the market, it can be done, especially with today's incredible advances in computing power," observed Stein.
In addition to Mrs. Bush, Mr. O'Reilly, Mr. Bradshaw and Mr. Stein, the Atlanta line-up will also feature former Alaska Governor Sarah Palin, who will be speaking on how to overcome adversity. Sales training master Tom Hopkins, leadership development expert John Maxwell, investing guru Phil Town and motivational master Les Brown round out the impressive line-up.
All speakers will appear live on stage and in person during the Atlanta event. Participants will experience a high-energy arena-style event with pyrotechnics, music, contests, networking opportunities, organized team spirit, prizes and live entertainment throughout the day. Doors to Philips Arena open at 6:45 a.m. The event runs from 8:00 a.m. to 6 p.m.
About Seize the Day Seminars
Seize the Day seminars are business and motivational seminars staged at venues throughout major cities in the United States. These one-day events are designed to educate, inspire and motivate people from all walks of life and all types of business backgrounds. Seize the Day seminars feature famous achievers from a wide variety of backgrounds, including sales and negotiation, marketing, team building, goal achievement, leadership development, productivity enhancement, personal empowerment, wealth building, business innovation, customer service, time management and more. Speakers share their personal stories and success strategies live from the stage on the day of the event. Opinions expressed by the speakers at the event are not necessarily shared by Seize the Day, Inc. Also available is an event workbook that includes speaker outlines, how-to articles, upcoming events and a monthly calendar.
To attend this event, participants can purchase tickets online at SeizetheDay.com or by calling 1-800-952-7170. Use promo code PR22. Tickets cost $4.95 per person or $19.95 for an entire office.
###