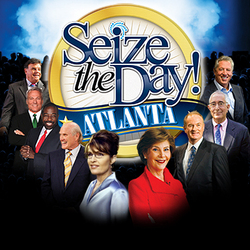 We encourage anyone in Atlanta interested in attending the Seize the Day event to go ahead and register now. Seats are filling fast.
Atlanta, GA (Vocus) October 8, 2010
Today, Seize the Day, Inc., an Atlanta-based company, announced that plans are well underway for its next business and motivational seminar, to be held November 9, 2010, at Philips Arena in Atlanta, Georgia.
According to Seize the Day spokesman Doug Williamson, "Thousands of seats for the Atlanta event have already been sold. With the success of the October 6th Seize the Day event in Columbus, Ohio, now behind us, we are looking forward to an even bigger event in Atlanta. We've assembled a terrific team of speakers, including former Vice Presidential candidate Sarah Palin."
In addition to Palin, the Atlanta Seize the Day seminar features some of America's most celebrated success stories, representing a wide range of industries and performance disciplines. Speakers include former First Lady Laura Bush, NFL Hall of Famer and sportscaster Terry Bradshaw, cable news titan Bill O'Reilly, actor-commentator Ben Stein, top sales trainer Tom Hopkins, leadership expert John Maxwell, investing guru Phil Town, and motivational master Les Brown.
These outstanding leaders, thinkers and visionaries, will take the stage to share their stories, secrets, strategies and game plans for success. Each speaker will challenge, humor and empower attendees, while prompting them to consider new ways to succeed in both business and their personal endeavors. All speakers will appear live on stage and in person during the Atlanta event.
The event, which is expected to draw thousands of people to downtown Atlanta, will generate significant economic impact to the area.
Added Williamson, "We encourage anyone in Atlanta interested in attending the Seize the Day event to go ahead and register now. Seats are filling fast."
Participants will experience a high-energy arena-style event with pyrotechnics, music, networking opportunities, prize giveaway drawings and live entertainment throughout the day. Doors to the Philips Arena open at 6:45 a.m. The event runs from 8:00 a.m. to 6 p.m.
About Seize the Day Seminars
Seize the Day seminars are business and motivational seminars staged at venues throughout major cities in the United States. These one-day events are designed to educate, inspire and motivate people from all walks of life and all types of business backgrounds. Seize the Day seminars feature famous achievers from a wide variety of backgrounds, including sales and negotiation, marketing, team building, goal achievement, leadership development, productivity enhancement, personal empowerment, wealth building, business innovation, customer service, time management and more. Speakers share their personal stories and success strategies live from the stage on the day of the event. Also available is an event workbook that includes speaker outlines, how-to articles, upcoming events and a monthly calendar.
To attend this event, participants can purchase tickets online at SeizetheDay.com or by calling 1-800-984-6003. Use promo code PR22. Tickets cost $4.95 per person or $19.95 for an entire office.
###