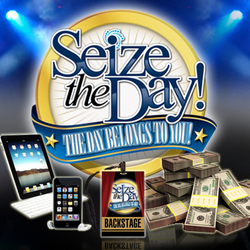 nervous wreck and also star struck
Atlanta, GA (Vocus) October 13, 2010
Today, Seize the Day, Inc., announced the names of ten contest winners who earned backstage passes to see their favorite speakers at the Seize the Day motivational business seminar in Columbus on October 6, 2010. The winners were selected from Seize the Day's 'Biggest Fan' contest on Facebook.
To win the backstage passes, Seize the Day ticket purchasers had to post a Wall entry explaining which speaker they liked the most and why they would like to meet him or her in person. Participants were then urged to tell their friends to 'like' their Wall post. Winners are selected from participants who generated the highest numbers of "likes" on their Wall posts and the overall quality of their message.
Winning contestants included: Susan Badertscher, Rachel Brown, Jamie Coyne, Megan Phillips, Renee Jewett, Susan Kraus, Sharon Morton, Janet Goodwin Stoughton, Kim Townsend and Todd Spence. Each winner was escorted backstage to meet and be photographed with their favorite speaker and were given premier VIP seating.
Renee Jewett admitted she was a "nervous wreck and also star struck" to meet her favorite speaker, NFL legend Terry Bradshaw and she enjoyed the experience very much. Jewett stated that attending Seize the Day made her feel "refreshed" and ready to try new things. "I came to the event with my boss's wife and we started out the morning determined to Seize the Day. I can't wait until next year," she said.
Todd Spence, "Biggest Fan" winner for motivational master Les Brown, expressed, "I was excited and nervous to meet an icon I've been following for almost 20 years. Sitting in the front row, I watched Les do his magic and connect instantly with everyone in the arena. When Les walked in backstage, I felt like I was seeing an old friend. Les was warm and extremely personable and spent an extended period of time asking me questions about my work, family and dreams. I still feel a buzz of inspiration and motivation to achieve everything that is in my heart."
Jamie Coyne, 'Biggest Fan' winner for sales training master Tom Hopkins, stated, "My wife and I drove two hours to attend this seminar. In my personal time with Tom backstage, I got to exchange information with him. I look forward to visiting with Tom again."
Sharon Morton, Ben Stein's 'Biggest Fan' contest winner, exclaimed, "My palms were sweaty prior to meeting Mr. Stein, but once I met him, I lost my nervousness. He is such a real person. I enjoyed every minute of Seize the Day and I can't wait for the next one. I am so thankful for this opportunity!"
Random drawings throughout the day awarded a $10,000 cash prize to winner Gary Irwin and an iPad to winner John Morris. Ben James was awarded a two-day trip to Las Vegas after winning the mid-day dance contest.
Seize the Day is currently accepting Facebook 'Biggest Fan' submissions for its upcoming seminar at Philips Arena in Atlanta, GA, on Tuesday, November 9, 2010. Just like Columbus, the Atlanta event features former First Lady Laura Bush, Terry Bradshaw, Bill O'Reilly, Ben Stein, Terry Bradshaw, Tom Hopkins, Les Brown, leadership expert John Maxwell, investment guru Phil Town, plus GOP vice presidential candidate Sarah Palin.
All speakers will appear live on stage and in person during the Atlanta event. Participants will experience a high-energy arena-style event with pyrotechnics, music, networking opportunities, organized team spirit, prizes and live entertainment throughout the day. Doors to Philips Arena open at 6:45 a.m. The event runs from 8:00 a.m. to 6 p.m. on Tuesday, November 9, 2010.
About Seize the Day Seminars
Seize the Day seminars are business and motivational seminars staged at venues throughout major cities in the United States. These one-day events are designed to educate, inspire and motivate people from all walks of life and all types of business backgrounds. Seize the Day seminars feature famous achievers from a wide variety of backgrounds, including sales and negotiation, marketing, team building, goal achievement, leadership development, productivity enhancement, personal empowerment, wealth building, business innovation, customer service, time management and more. Speakers share their personal stories and success strategies live from the stage on the day of the event. Also available is an event workbook that includes speaker outlines, how-to articles, upcoming events and a monthly calendar.
To attend this event, participants can purchase tickets online at SeizetheDay.com or by calling 1-800-796-8180. Use promo code PR78. Tickets cost $4.95 per person or $19.95 for an entire office.
###