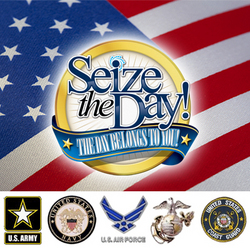 Atlanta, GA (Vocus) November 6, 2010
Today, Seize the Day, Inc., an Atlanta-based company, announced that will offer complimentary tickets to all military personnel serving in any branch of the U.S. Armed services, as well as civilians who work on the military bases. The Seize the Day seminar is scheduled for November 9th at Philips Arena.
According to Seize the Day spokesman Doug Williamson, "Seize the Day recognizes the important role our military plays in the country today. Offering them complimentary tickets to our event is one way we can tell them 'thank you' for their efforts. We will be honored to see Philips Arena filled with men and women who are either serving as military personnel or working as support staff."
Seize the Day is a live business and motivational event that features some of the best-known speakers in the country. These men and women have been assembled to educate, motivate and encourage audience participants to find new ways to become more successful, boost company morale, build wealth and improve productivity.
The Seize the Day event in Atlanta will be headlined by former GOP vice presidential candidate Sarah Palin, former First Lady Laura Bush, cable news icon Bill O'Reilly, actor-commentator Ben Stein, former Atlanta Braves pitcher John Smoltz and NFL Hall of Famer Terry Bradshaw. Other speakers include leadership development guru John Maxwell, two-time bestselling financial author Phil Town, sales trainer Tom Hopkins and motivation master Les Brown.
All speakers will appear live on stage and in person during the Atlanta event. Participants will experience a high-energy arena-style event with pyrotechnics, music, contests, networking opportunities, organized team spirit, prizes and live entertainment throughout the day. Doors to Philips Arena open at 6:45 a.m. The event runs from 8:00 a.m. to 6 p.m.
About Seize the Day Seminars
Seize the Day seminars are business and motivational seminars staged at venues throughout major cities in the United States. These one-day events are designed to educate, inspire and motivate people from all walks of life and all types of business backgrounds. Seize the Day seminars feature famous achievers from a wide variety of backgrounds, including sales and negotiation, marketing, team building, goal achievement, leadership development, productivity enhancement, personal empowerment, wealth building, business innovation, customer service, time management and more. Speakers share their personal stories and success strategies live from the stage on the day of the event. Also available is an event workbook that includes speaker outlines, how-to articles, upcoming events and a monthly calendar.
To get the free tickets, military personnel and civilian support members can register online at SeizetheDay.com or by calling 1-800-957-8180. Use promo code MILITARY24.
###