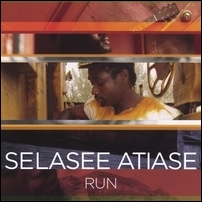 So far Selasee's campaign is on the right path, now moving into online street team and video promotions to synch up with P2P digital distribution and press release services through our partnership with Billboard Publicity Wire
Quebec, Canada (PRWEB) March 29, 2007
It's been a little over a year now since Selasee took home first place in the World Music category at the 2005 International Songwriting Competition for his single "Run". Now after a successful 2006, selected to showcase at the MIDEM Buzzband in Cannes, France, the MUSEXPO 2006 edition in Los Angeles and the CMJ Music Marathon in New York, Selasee's single "Run" has also been taken notice in the licensing world when Electronic Arts chose to add the song to their multi-platinum selling FIFA 2006 video game and award winning soundtrack.
To end the year on a positive note, another track on Selasee's album titled "Agba Yei" has also become an International Songwriting Competition song finalist within the World Music category, in which earlier that year the same song was a finalist in the John Lennon Songwriting Competition.
Selasee continues to make noise for himself in 2007, this time through the World Wide Web, by means of launching an Online Marketing Campaign through MusiK1. Strategically executed, Selasee's campaign heavily concentrates on Internet radio promotions, which has already gained mainstream chart recognition. "With the support of two leading iTunes featured stations, one based in the UK and the other in the US, Selasee reached #80 on the RadioWave Monitor Mainstream charts" explains Josh East, Senior Project Manager for MusiK1. "So far Selasee's campaign is on the right path, now moving into online street team and video promotions to synch up with P2P digital distribution and press release services through our partnership with Billboard Publicity Wire", adds Josh.
Running Dream Records is open to partner with an associated label and/or booking agent to get a stronger worldwide presence for Selasee. For more information, feel free to reach out to Sean Cassidy at the provided contact information.
About Selasee
Selasee's songwriting talent is comparable to Bob Marley to the fact that he approaches complex subjects using simple lyrics and infectious melody's that can reach a broad range of audiences. His music transcends the Reggae format and spills over the other musical genres. To learn more about Selasee and his music, feel free to visit him at http://www.selasee.com.
About Running Dream Records
RunningDream Records was founded to bring to the music world what the Press has been calling; "The Magic of Selasee". They produced his first award-winning album and their objective is to sign Selasee to a larger more established label and bring his career to the next level.
About MusiK1
MusiK1has built a solid network of strategic partners positioned to aid in new business developments, primarily to create innovative record campaign solutions for the independent artist and label community. Establishing a unique line of a la carte and packaged services has also driven MusiK1 to form a label arm for selective clients seeking distribution and label support.
About Billboard Publicity Wire
Billboard Publicity Wire is the major and indie entertainment press release service that combines the direct-to-media distribution approach of traditional PR wire services with the latest direct-to-consumer social media features and search engine optimized (SEO) internet distribution techniques. It's the most effective service available for generating media coverage and online visibility for your artists, music, films, games, events and web sites.
Free Track by Selasee
You may visit http://www.selasee.com/mediaplayer.php to download Selasee's complimentary track titled "Sweet Sweet Lovin'".
Purchase Selasee Music
Selasee's music can be found on popular online retail sites as iTunes, MSN Music, Yahoo! Music, AOL Music Now, Napster, eMusic, Amazon.com and CD Baby.
# # #