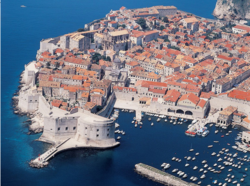 Now Travelers can easily reach out to our travel experts and start planning their travel to Croatia
Chicago, IL (PRWEB) July 17, 2012
For centuries those most enterprising of Italians, the Venetians, ruled the Dalmatian coast of what is now Croatia. This gorgeous Mediterranean expanse of islands, aquamarine waters and historic, UNESCO World Heritage-listed cities has timeless appeal, and Select Italy – yes, Select Italy -- can show you expertly how, and precisely where.
Recently chosen as among the most interesting and upcoming European destinations of 2012, according to the U.S. research company Travel Leaders Franchise Group, heretofore unsung Croatia has actually been on the Select Italy radar for nearly half a decade -- company President Andrea Sertoli, ten-time Travel & Leisure A-List Travel Agent, foresaw the potential of this "land of thousand islands" as a desirable destination.
While Select Italy remains The Ultimate Source for Travel to Italy® , the company is doing more than giving a passing glance to points east. The Chicago-based travel company has launched the latest addition to the recently revamped website, Selectitaly.com/Croatia, a brand new section completely dedicated to Croatia travel, offering a unique combination of services to travelers and travel agents.
From sailing in Split, or sightseeing in stunning Dubrovnik, or hiking along the Plitvice Lakes, Select Italy will assemble a Croatian vacation to remember thanks to a team comprised of not only native Italian and American travel professionals, but native Croatian travel pros, too. Individual clients and industry professionals alike will now able to experience the same high level of professionalism that has set Select Italy apart for the past 15 years.
"We have been working with custom itineraries in Croatia for quite a few years now," says Andrea Guglielmino, Select Italy's Director of Digital Marketing. "The creation of a dedicated section on our new Website was the natural evolution of this. With its user-friendly interface, now Travelers can easily reach out to our travel experts and start planning their travel to Croatia."
The new Croatian component gives travelers all of the essential trip planning tools that they need to create their dream vacation, with ease of booking individual tours with maritime, wine, food, and many other themes and services. Recommendations and tips from the locals, vouchers, and brochures are included with every travel package so that customers can stay informed while both en route and after arrival.
To learn more about Select Italy's new Croatia page or other travel opportunities visit http://Selectitaly.com/Croatia
About Select Italy
Select Italy is The Ultimate Source for Travel to Italy® and offers a wide array of superior Italian travel products and services, including customized itineraries, state-of-the-art tours and packages, wedding/honeymoon trips, unique culinary classes, a complete pre-departure ticketing service for museums and musical events, private guided services, yacht charters, transportation, hotel reservations, villa bookings and more. Through a vast network of suppliers and cultural contacts, anything and everything you need for optimum Italian travel -- and now Croatian travel, too – is possible at Select Italy.
Based in Chicago with an office in New York and representatives in Italy, in 2010 Select Italy opened a full-service branch in Shanghai, China. For more information call (800) 877-1755 or visit http://selectitaly.com.