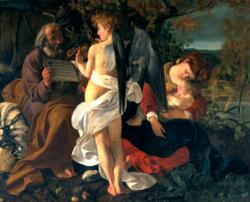 The Opera Omnia service is one that is totally unique. Usually you have to choose between a museum or a concert, but with this service you get to learn about the art that influenced the music and vice versa, all in one go
Chicago, IL (PRWEB) April 10, 2012
For the first time ever Select Italy offers travelers the unique opportunity to purchase Opera Omnia tickets. This experience immerses the traveler in the artistic climate of a unique era, offering the best of both Italian art and Early music, with guided visits of museums and churches in Rome. Travelers enjoy live concerts of era's greatest musical masterworks.
"The Opera Omnia service is one that is totally unique. Usually you have to choose between a museum or a concert, but with this service you get to learn about the art that influenced the music and vice versa, all in one go," says Maria Meyer, Consultant and Musical Event Specialist at Select Italy.
Travelers can now choose between tours of three different venues, which feature three distinct artists and a concert of a variety of composers. "Music in Bernini's Rome," offers a performance of baroque music by composers Monteverdi, Caccini and Falconieri in the church of Sant'Agnese in Agone, which houses some of Bernini's most important sculptures. "Sounds and Visions of Caravaggio," highlights the paintings of Caravaggio along with those of Titian and Raphael in the Galleria Doria Pamphili along the Via del Corso; the corresponding concert in the gallery also features the works of Monteverdi, along with those of Frescobaldi and Aranes. "Music and Myth in Raphael Frescoes," at the Villa Farnesina in Trastevere explores Raphael's works through the Renaissance to culminate in a concert featuring pieces by the era's most significant composers performed using the same musical instruments of that time.
Select Italy is a featured vendor for this unique service. Nowhere else can one find access to the perfect marriage of Rome's most prominent artists and composers. For pricing, booking and full details visit the Select Italy "Theaters" page to check schedules and buy tickets; or, speak to a representative by calling the toll free number 800.877.1755 for US and Canada, +1-312-664-4200 internationally.
About Select Italy
Select Italy is the ultimate source for travel to Italy and offers a wide array of superior Italian products and services, including customized itineraries, state-of-the-art tours and packages, wedding/honeymoon trips, unique culinary classes, a complete pre-departure ticketing service for museums and musical events, private guided services, yacht charters, transportation, hotel reservations, villa bookings and more. In 2010, Select Italy opened a full-service branch in Shanghai, China. For more information call (800) 877-1755 or visit http://selectitaly.com.