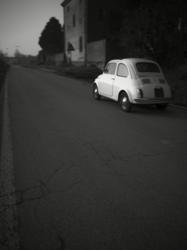 It's an iconic vehicle and an iconic experience.
Chicago, IL (PRWEB) May 16, 2012
Select Italy has just found the perfect solution for sore feet and long hikes by giving customers the option to see Rome in a vintage Italian Fiat. Customers who are looking for a less strenuous trip can choose to travel in Rome by car. The perfect blend of culture and style, the Fiat 500 is a staple of Italian history. Featured in many popular Italian Neo-Realism films, it is also a sign of Italy's post-WWII economic boom.
The Fiat tours will provide customers with an unique set of options for sightseeing and travel. Customers who intend to travel in Rome as part of the Fiat package will have three separate tours to choose from. The Fiat tours that Select Italy currently offers consist of the Grand Tour, the Night Tour, and the Tour of the Hills. Visitors who want to see the most popular landmarks in Rome might prefer the Grand Tour. Lasting four hours, customers will travel to locations such as the Coliseum, the Trevi Fountain, the Spanish Steps, St. Peter's Square, and many more of Rome's most famous destinations.
Rome, nicknamed the Eternal City, glows even when the sun sets. Select Italy knows that an evening out in Rome is essential for a perfect Italy vacation. Cameras are a must as the Night Tour provides visitors with a comprehensive, three-hour, illuminated sightseeing experience. By selecting the Night Tour, customers can travel in Rome and marvel at the city's nightlife with ease.
"I think it's an iconic vehicle and an iconic experience," says Alison Turner, Director of Operations at Select Italy. "Customers can see the standard sights by day and then do the Rome by night experience this way."
Select Italy also offers options for travelers who prefer to head off the beaten path. The four-hour Tour of the Hills package ensures that customers will see unique locations, both in and around the outskirts of Rome. Select Italy's Tour of the Hills is specifically designed to give customers a look at many of Rome's hidden gems. Travelers looking to discover something out of the ordinary on their Italy vacation will now have that option.
Select Italy will include an English-speaking guide for every tour so that customers can travel in Rome without any worry or concern.
Those who have seen the classic film "Roman Holiday" (a must-watch), might just recall the unforgettable scene where Gregory Peck steps through the roof of his Fiat to open the door for Audrey Hepburn. Select Italy looks forward to helping customers create their own "Roman Holiday."
To travel around Rome in a classic Italian Fiat, speak to a representative at (800) 877-1755 or visit http://selectitaly.com
About Select Italy
Select Italy is the ultimate source for travel to Italy and offers a wide array of superior Italian products and services, including customized itineraries, state-of-the-art tours and packages, wedding/honeymoon trips, unique culinary classes, a complete pre-departure ticketing service for museums and musical events, private guided services, yacht charters, transportation, hotel reservations, villa bookings and more. In 2010, Select Italy opened a full-service branch in Shanghai, China. For more information call (800) 877-1755 or visit http://www.selectitaly.com.
Tickets in Italy? Italian museums, musical events and trains tickets now available in three new languages with the new Select Italy multilingual Internet/web platforms.
Select Italy, the leader in online ticketing services for Italy meet the needs of non-english clients with easy-to-navigate and dedicated web pages in German, French and Italian .
Thanks to its position as (of) the most complete museum and musical event tickets dealer for Italy and a newly improved train-ticketing service, Select Italy is happy to introduce three new platforms selectitaly.de, selectitaly.fr and selectitaly.it, spin-offs of the main website SelectItaly.com, that will simplify the process of planning a trip to Italy for all the travelers worldwide.
With this move Select Italy simplify the life of all those (the) international clients who visit the website daily offering them complete descriptions (of the services offered) in their own languages, (as) ticket booking and reservations for world famous museums, unique operas concerts and train tickets at the most competitive price in the market. The booking procedure is easy and fast thanks to the simple and intuitive web interface.
Select Italy, recognized for its high quality service, ticketing reliability and outstanding customer service, is expanding to a new level. The contents of the multilingual platforms and the dedicated customer service are complete in German, French and Italian while other languages, such as Spanish, Portuguese, Dutch, Danish and others will follow soon.