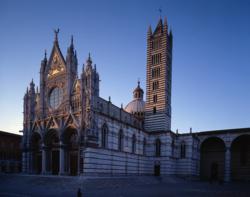 The sheer amount of decoration in Siena Duomo and the number of masterpieces by world famous artists. I can't think of anyone who would be unmoved by this place.
New York, NY (PRWEB) September 25, 2012
The Siena Cathedral Combo Pass now available in the Italian museum tickets section of Select Italy's Website (http://selectitaly). This exclusive offer allows entry to the Duomo and the Piccolomini Library, along with five other related sites grouped around Piazza Duomo: the Crypt, the Baptistery of San Giovanni, the Museo dell'Opera, the Facciatone and the Oratory of San Bernardino. Select Italy is a Chicago-based travel company specializing in Italy Vacations since 1997.
The new addition expands the company's portfolio of Italian museums tickets, already one of the most comprehensive and vast in its segment, featuring online bookings and reservations services for all the major Italian museums, such as the Last Super in Milan, the Vatican Museum in Rome, and the Uffizi Gallery in Florence, but also showcasing a selection of lesser-known Italian museums, that offer unique experiences and are often overlooked by mainstream tourists.
The brand new Siena Cathedral Combo Pass is valid for three consecutive days and consists of a single ticket giving access to an unforgettable itinerary through the most magnificent sites clustered around the city's vast Gothic cathedral, commonly known as Duomo di Siena.
"The sheer amount of decoration in Siena Duomo and the number of masterpieces by world famous artists that everyone has heard of -- Bernini, Michelangelo, Donatello -- is incredible" says Kate McCluer, Director of Select Italy's Florence Office. "I can't think of anyone who would be unmoved by this place; With the combo tickets it will be possible to access charming Renaissance frescoes in the Piccolomini Library, which have a special appeal for kids."
The pass comprises of fast-track entries to six popular monuments in the heart of the medieval city, allowing carriers to avoid the long lines that can form, especially in high tourist seasons. Among the attractions is the so-called Facciatone, Italian for big façade, the remains of an impressive project during which Siena decided to turn the existing Duomo, which is impressive by any standards, into the transept of a gigantic new super-Duomo making it the largest cathedral in the world and dwarfing even St. Peter's in Rome. The project was halted forever by a devastating pandemic, but Select Italy's clients bearing the Combo Pass can now climb the unfinished façade for an amazing, panoramic view of the city's rooftops and the gorgeous Tuscan countryside beyond.
To learn more about Siena Cathedral Combo Pass, pricing and schedules, visit http://selectitaly.com or call (800) 877-1755 to speak directly with a Select Italy representative.
About Select Italy
Select Italy is The Ultimate Source for Travel to Italy® and offers a wide array of superior Italian travel products and services, including customized itineraries, state-of-the-art tours and packages, wedding/honeymoon trips, unique culinary classes, a complete pre-departure ticketing service for museums and musical events, private guided services, yacht charters, transportation, hotel reservations, villa bookings and more. Through a vast network of suppliers and cultural contacts, anything and everything you need for optimum Italian travel -- and now Croatian travel, too – is possible at Select Italy. Based in Chicago with an office in New York and representatives in Italy, in 2010 Select Italy opened a full-service branch in Shanghai, China.