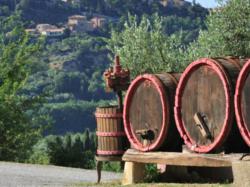 It's a very immersive experience.
Chicago, IL (PRWEB) June 22, 2012
Discovering history, culture, and cuisine in Italy is the theme for Select Italy's new wine tasting tours. Select Italy knows that travelers enjoy Italian cuisine, yet, many travelers often become the victims of tourist traps. These traps often present travelers with overpriced (and sub-par) food and wine, and Select Italy, the online travel agency, is now introducing three new food and wine tours in order to rectify this situation. By exploring different eras of Italian history, customers will head to more local rather than touristy, destinations. The wine tasting tours will take travelers through time in Tuscany and the Amalfi Coast.
The wine tasting tours begin with a throwback to the earliest days of ancient Italy. The food and wine tour at Paestum, is a must-see for Historians, especially for those who follow architecture and archaeology but also for foodies that will have the opportunity to try Mozzarella Di Bufala, exclusive to the region and this tour. The Paestum tour is guaranteed to have some of the best cuisine in Italy and immerses customers into the era of ancient Italy.
Castles, top-notch wines, and much more await customers who choose Select Italy's Tuscan wine tasting tour. The tour itself is a safari into medieval Italy. Customers will head to Montecarlo, a well-preserved medieval village, in order to see how Italian life was conducted behind castle walls so many years ago. Select Italy will also introduce travelers to some very unique wines that hark back to the area's diversified and preserved culture. Take La Fattoria Michi, for example, a winery that blends French and Italian wines for a fusion that is guaranteed to satisfy beginners and connoisseurs alike.
Just as the Paestum and Tuscan wine tasting tours harken towards Italy's ancient and medieval periods, the Irpinia tour is a celebration of Italy's Renaissance. Select Italy aims for variety and offers a complete Renaissance wine tasting tour with authentic and renowned white wines that are produced in Irpinia, Fiano di Avellino and Falanghina. Situated 25 miles east of Naples and resting in the gorgeous Apennine mountains, Irpinia is home to some of the oldest wineries in Italy. The tour is a tribute to the Renaissance of Southern Italy and it's wine drinking culture.
"It's a very immersive experience," says Alison Duray, Director of Operations at Select Italy. "Wine is a big part of Italian culture and customers can be a part of that atmosphere with this tour."
All three tours will put Italy in a new lens and give customers a better look at the local lifestyles and periods of Italian culture. Select Italy believes that travelers will be fully immersed in a historical Italian experience with the wine tasting tours. As the saying goes, "in wine, there is truth."
To learn more about Select Italy's wine tasting tours or other travel opportunities, speak to a representative at the toll free number (800) 877-1755 for the U.S. and Canada, +1-312-664-4200 internationally, or visit http://Selectitaly.com