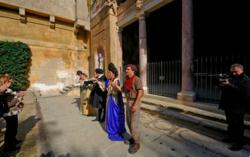 This is such a unique and wonderful service, a truly once in a lifetime opportunity.
Chicago, IL (PRWEB) April 24, 2012
For travelers looking for a unique departure from the typical theatrical events in Florence, "Giorgio Vasari" delivers an exclusive performance in the unique setting of Florence's Vasari Corridor. Select Italy (http://selectitaly.com/) is now offering tickets to this special event where availability is extremely limited.
"This is such a unique and wonderful service," says Kate McCluer, Select Italy's Consultant in Florence. " Very few people are allowed to visit the Corridor. Add to that a great theatrical performance based on historical events to celebrate the 500th anniversary of the Corridor's architect is truly a once in a lifetime experience. Select Italy is so lucky to be offering this service to clients."
In 1511, Giorgio Vasari was born. He would later become the renowned architect of the Vasari Corridor which would serve Cosimo I, Grand Duke of Tuscany. The private walkway served to connect the Grand Duke's old dwelling in the Palazzo Vecchio, his offices in the Uffizi and his home on the opposite side of the river, the Palazzo Pitti. The performance takes place within the Corridor, high above the streets and bridges of Florence. The story follows Giorgio Vasari as he encounters Bianca Cappello, Francesco de' Medici's red-haired Venetian mistress whom he later married. The drama continues with Electress Palatine, the pious but foresighted woman whose last will and testament of 1737 bequeathed to Florence all of the treasures in the Medici's vast art collection. A partisan and a German soldier dramatize the last days of World War II when the retreating Germans bombed many bridges in Florence.
The Corridor was designed to preserve the privacy of the Medici family and other royalty as they moved between residences in Florence. Therefore, it stands elevated and enclosed above the city's streets and bridges. Not only can visitors enjoy a bird's-eye view of Florence, but they may also delight in the world's largest collection of artist self-portraits, including those of Guido Reni, the Carraci, Delacroiz, Rubens and Chagall, housed in the Uffizi portion of the walkway.
Advanced reservations are required to tour the Vasari Corridor as space is extremely limited. Select Italy is one of few vendors to offer access to this special site, with group tours and private visits. All Select Italy tours include entrance tickets to the Uffizi Gallery.
For pricing, booking and full details visit Select Italy Museums page to check availability and pricing. It is also possible to speak to a representative by calling the toll free number 800.877.1755 for US and Canada, +1-312-664-4200 internationally.
About Select Italy
Select Italy is the ultimate source for travel to Italy and offers a wide array of superior Italian products and services, including customized itineraries, state-of-the-art tours and packages, wedding/honeymoon trips, unique culinary classes, a complete pre-departure ticketing service for museums and musical events, private guided services, yacht charters, transportation, hotel reservations, villa bookings and more. In 2010, Select Italy opened a full-service branch in Shanghai, China. For more information call (800) 877-1755 or visit http://selectitaly.com.