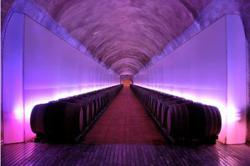 We have named the series Archi-Wine in honor of the meeting between some of the greateast wines, architects and artists not only in Italy, but in the entire world
New York, NY (PRWEB) July 25, 2012
Great buildings and great wines are the inspiration for Select Italy's innovative Arch-Wine series of privately guided excursions to the country's premier wine growing regions: Tuscany, Piedmont and now Umbria. Five exclusive day- trips that pair wine and architecture in a way that engages all five senses in a crescendo of creativity that is the essence of the Bel Paese's unending fascination for visitors.
With the two new addition the series of Italian winery tours comprises five avant-garde wine tastings with an air of contemporary class. Here, artists and modern architects have been rethinking the winery as a contemporary expression of tradition and innovation.
In Archi-Wine Tour: When Architects Meet Winemakers in Umbria, the first ever Select Italy wine excursion to the Italian region nicknamed the "Green Heart of Italy", the expansive Umbrian landscape between Perugia and Montefalco is the setting for a remarkable wine cellar created by Italy's greatest contemporary sculptor, Arnaldo Pomodoro. At the age of 80, he enthusiastically undertook to design of a spectacular construction whose distinctive profile doesn't disturb the gentle Umbrian hillsides planted with vines, but instead is perfectly integrated with them. Highlights of the visit is a guided tour of Carapace and a tasting of the estate's organic Sagrantino di Montefalco wines.
Archi-Wine Tour: When Architects Meet Winemakers in the Val d'Orcia is the second new excursion uniting architecture and wine. Actually, two valleys in central Tuscany are visited: not only the Val d'Orcia but also the Val di Chiana – both have a long and illustrious history of winemaking that dates back to the Etruscans. The main wines produced here are the Vino Nobile di Montepulciano DOCG and the Il Bosco Cortona Syrah DOC. Contemporary art has captivated the owners of the two wine estates that will be seen on this tour. Each has amassed an extensive private art collection that, in the case of the Tenimenti D'Alessandro Winery, is also displayed outdoors among the grapevines.
The other two already popular options take places in some of the best Tuscan wineries, where the magnificent buildings are as bold as the Super-Tuscans, and in Piedmont's Le Langhe region, known worldwide for its prestigious truffles and prized Barolo and Barbaresco wines.
"Select Italy is the only company offering these innovative tours" says Andrea Sertoli "We have named the series Archi-Wine in honor of the meeting between some of the greateast wines, architects and artists not only in Italy, but in the entire world"
The guided tours and wine-tasting, collectively the 'Archi-Wine' Tour: When Architects Meet Winemakers, feature buildings, sculpture and pieces of contemporary art that blend beautifully into the surrounding countrysides. The list of artists that are featured in the tours has names such as - Superstar Italian architects Renzo Piano and Mario Botta, Artists Sol LeWitt and David Tremlett, Pomodoro and more. Prices for these exclusive food and wine tours in Italy are specially priced starting at $302 per person
To learn more about Select Italy's Archi-wine tours or other travel opportunities, speak to a representative by calling toll-free (800) 877-1755 for the U.S. and Canada, +1-312-664-4200 internationally, or visit http://Selectitaly.com
About Select Italy
Select Italy is The Ultimate Source for Travel to Italy® and offers a wide array of superior Italian travel products and services, including customized itineraries, state-of-the-art tours and packages, wedding/honeymoon trips, unique culinary classes, a complete pre-departure ticketing service for museums and musical events, private guided services, yacht charters, transportation, hotel reservations, villa bookings and more. Through a vast network of suppliers and cultural contacts, anything and everything you need for optimum Italian travel -- and now Croatian travel, too – is possible at Select Italy. Based in Chicago with an office in New York and representatives in Italy, in 2010 Select Italy opened a full-service branch in Shanghai, China. For more information call (800) 877-1755 or visit http://selectitaly.com.