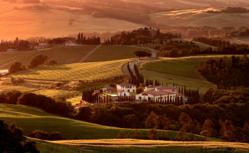 This is an exclusive, V.I.P event, one that offers the best of the Tuscan wine and hospitality industries
Chicago, IL (PRWEB) March 28, 2012
Select Italy is proud to introduce "Divino Tuscany," a four-day vacation package to celebrate the art of Tuscan wine-making. The event will take place from May 17th to 20th in Florence and will offer an exclusive experience in a breathtaking environment with an impressive roster of hosts. Guests will taste wine, attend seminars, enjoy lavish dinners and watch live musical performances.
"This is an exclusive, V.I.P event, one that offers the best of the Tuscan wine and hospitality industries." says Andrea Sertoli, President of Select Italy "In addition, the Tuscan noble families and V.I.P. attendance makes it a red carpet event that wine lovers and appreciators wouldn't want to miss."
Created with the highest level of excellence in mind, 'Divino Tuscany' sets a new standard in event design. The signature event will be hosted by James Suckling, former Senior Editor and European Bureau Chief of 'Wine Spectator' and one of the world's most noted and influential wine critics, and IMG Artists, the global leader in arts management and a leading producer of cultural and lifestyle festivals. The founding vintners from the Antinori, Frescobaldi, Mazzei, Ricasoli, Il Borro, Petrolo and Castello Banfi estates are also slated for participation.
The celebration of wine permeates every aspect of the four day event. Tuscan wineries, castles and palazzos belonging to noble families will open just for attendees. Exquisite food will be served by restaurateurs of the highest caliber, such as Giorgio Pinchiorri of the renowned Enoteca Pinchiorri, against the hilly backdrop of Tuscany.
Other program highlights include an inaugural concert by world-famous Cuban jazz trio featuring Ernan Lopez Nussa and a showing of "The Heart and Soul of Cuba," a documentary that explores the Cuban cigar industry. Afterwards guests will enjoy a grappa tasting and fine Cuban cigars at the Grand Hotel Villa Cora.
The Closing ceremony of the exclusive four-day Luxury & Wine Event will be hosted by Sting and Trudie Styler in their Villa Il Palagio with a traditional Tuscan pig roast.
For pricing, booking and full details of how to be a part of this exclusive experience visit Selectitaly.com or call +1-312-664-4200.
About Select Italy
Select Italy is the ultimate source for travel to Italy and offers a wide array of superior Italian products and services, including customized itineraries, state-of-the-art tours and packages, wedding/honeymoon trips, unique culinary classes, a complete pre-departure ticketing service for museums and musical events, private guided services, yacht charters, transportation, hotel reservations, villa bookings and more. In 2010, Select Italy opened a full-service branch in Shanghai, China. For more information call (800) 877-1755 or visit Selectitaly.com.