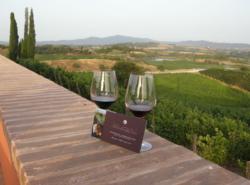 These packages create a perfect experience for the customer to encounter not only the amazing Tuscan wines but also become introduced to world renowned performers.
Chicago, IL (PRWEB) June 12, 2013
Web based Tour Operator and Travel Agency, Select Italy has recently introduced on its website two exclusive 3-night vacation packages in Tuscany. These packages aim to satisfy travelers who think that nothing can beat a vacation to Italy fully immersed in a outstanding countryside, celebrated wine and internationally acclaimed artists and unique music experience.
Select Italy has partnered up with Melodia del Vino Festival to produce two vacation packages that will take travelers along several provinces of Tuscany during two weekends of summer 2013: June 25th- 28th and July 1st- 4th 2013 respectively. The services will allow Select Italy's clients to experience concerts by prestigious performers while tasting the heart of high-quality Tuscan wine, illustrating the charm of arguably the most iconic countryside in the world. Together this blend of melody and vino is sure to leave a lasting impression.
The vacation package that will take place at the end of June invites visitors to the center of Florence where they can unwind at the 4-star Hotel Rivoli, just steps away from the central Piazza Santa Maria Novella and immerge the travelers in a three-day whirlwind of fun including small group walking tour of the city, a skip-the-line entrance ticket to either the Uffizi or Accademia museums, and of course free time for exploration. The inaugural concert of the Melodia del Vino Festival will take place on the evening of day three with a private transfer to and from the opulent concert venue, Marchesi Antinori's brand new winemaking complex on the doorstep of Florence, located in the core of the Chianti Classico growing region. While listening to esteemed pianist, Alexander Romanovksy, sip on the excellence of Tuscan red wine.
"Both of these Melodia del Vino packages create a perfect experience for the customer to encounter not only the amazing Tuscan wines but also become introduced to world renowned performers. This is a great way to explore a different side of Italy, while also enjoying a relaxing vacation," says Manager of Operations and Client Services, Justin Anderson.
The July vacation package of Melodia del Vino brings the majestic Tuscan town of Montalcino to life. The 4-star Hotel Delais Osteria dell'Orcia is perfectly placed in a comfortably immersed countryside, UNESCO-listed with a fabulous restaurant and pool. Venture into the nearby towns of Pienza, Montepulciano, San Quirico d'Orcia and Siena for a one-of-a-kind wine tasting experience. The Medieval Banfi Castle will be home to performance of French cello player, Henri Demarquette accompanied by pianist Marc Laforet. Exquisite wine tasting combined with music is a perfect way to end the Tuscan travel.
Both of these magnificent vacation packages offer consumers numerous outstanding aspects of Italy by combining both wine and music in the magic of the charming Tuscan villages. Ideal for people searching for an out-of-the-ordinary vacation, these packages allow for an experience of a lifetime.
Those seeking for more information can contact Select Italy at (877) 877-1755 (USA & Canada) or 001 (312) 664-4200 or to learn more about Select Italy's vacation packages visiting selectitaly.com.
About Select Italy
Select Italy is The Ultimate Source for Travel to Italy® and offers a wide array of superior Italian travel products and services, including customized itineraries, state-of-the-art tours and packages, wedding/honeymoon trips, unique culinary classes, a complete pre-departure ticketing service for museums and musical events, private guided services, yacht charters, transportation, hotel reservations, villa bookings and more. Through a vast network of suppliers and cultural contacts, anything and everything you need for optimum Italian travel -- and now Croatian travel, too – is possible at Select Italy. Based in Chicago with an office in New York and representatives in Italy, in 2010 Select Italy opened a full-service branch in Shanghai, China.