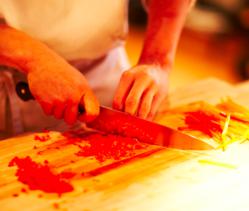 Simplicity and quality are the most important ingredients for a mouth-watering Italian meal.
New York, NY (PRWEB) October 31, 2011
Select Italy, world-wide known for its travel experience and services, is rapidly expanding in the Italian food sector. The Chicago based company is introducing a new series of online Italian video recipes with very feasible, authentic and tasty dishes. Branded as Fresh & Italian the videos are available online on Select Italy's Youtube channel.
Fresh and Italian is part of the effort to promote the Italian food culture and in based on a set of easy recipes for everyday gourmet meals along with the Select Italy's Online Gourmet Food Store and Eat In Style, the catering company based in Connecticut.
The videos are targeting the increasing number of Internet users that daily look at the world wide web web as the first source of inspiration for Italian recipes and decide to expand their cooking skills. The first series of videos will show how to make roasted eggplants, pasta, sea bass fish and more, in an extreme simplicity and that will feature Italian food and ingredients as the real star.
Fresh & Italian videos are not lessons of professional Italian cooking, but a series of informal mini-shows with the objective to showcase an easy approach to Italian home-cooking. The accent lays on quick and simple recipes that maximize the benefits of using healthy natural ingredients for taste and flavor. "Simplicity and quality are the most important ingredients for a mouth-watering Italian meal" - says Andrea Sertoli, Select Italy's President and host of the videos - "These mini-shows are a great opportunity to share the simple, tasty and healthy recipes of the Bel Paese cuisine".
The food sector is only one piece of the puzzle that Select Italy is creating with the "You & Italy project" which aims to bring Italy in people's life not only in the form of memorable vacations but by keeping alive those same feelings and tastes proper of the Italian culture, through food, art and entertainment and, overall, it's unique creative and enjoyable lifestyle.
The first Italian Video Recipe of the Fresh & Italian series, How to make Bell Pepper Salad , is now available on Select Italy's Youtube Channel.
ABOUT SELECT ITALY:
Select Italy is the ultimate source for travel to Italy and offers a wide array of superior Italian products and services, including customized itineraries, state-of-the-art tours and packages, wedding/honeymoon trips, unique culinary classes, a complete pre-departure ticketing service for museums and musical events, private guided services, yacht charters, transportation, hotel reservations, villa bookings and more. In 2010, Select Italy opened a full-service branch in Shanghai, China. For more information call (800) 877-1755 or visit Selectitaly.com.
###